Wondering how you can paint kitchen countertops by your own self with a spray can paint?
Don't worry this very easy-to-understand and step-by-step guide will help you out in completing this job without creating any mess on the countertop surface. Newbies should follow each step explained in this guide.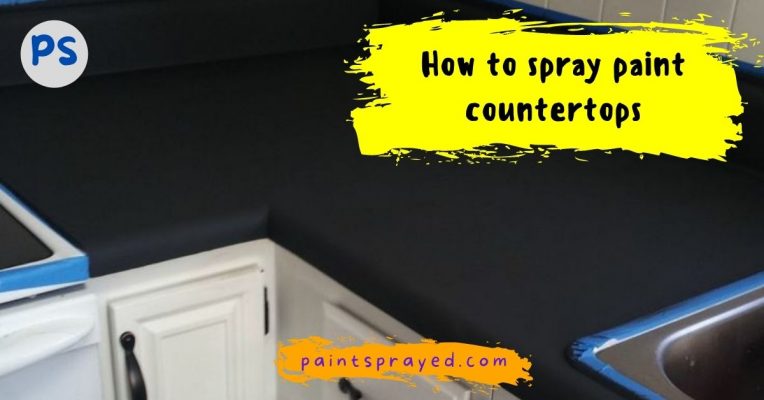 Spray paint countertops have become a popular idea in recent years. Many people wonder if it is really possible to paint countertops during a DIY home improvement project.
The answer is: yes, it is possible and much easier than one might think.
Spray painting countertops is an easy task as long as you have the right tools for the job. You need the paint, the color, and the method to get the best out of your countertops.
This blog will look at the different ways that you can spray paint the countertops without encountering any hassles.
Tools you need to do the job
Spray paint for wood
Paintbrush
Newspaper
paint thinner
Gloves
Safety goggles
Drop cloth
Masking tape
Masking tape straps
Water-based polyurethane
Brush
Wood filler
Paint roller
3-in-1 oil
Prime the countertops
We knew right away that we wanted to paint our countertops white. But then we started wondering if it would be necessary to prime them before painting them.
Our countertops were already a light yellowish color, so they didn't need to be lightened and we figured the spray paint would cover everything completely.
In the end, we decided to still prime them since we already had the can of white paint…you know – just in case.
Shake the can well
Shake the can very well. We wanted to achieve an even texture, so we shook it constantly as we were applying it to the wall. The whole time.
Method to spray paint countertop
The best way to apply a spray-paint coat is to start from the back and move towards the front.
Applying from the front toward the back will make sure you're going in one direction, which means your counter won't have uneven paint.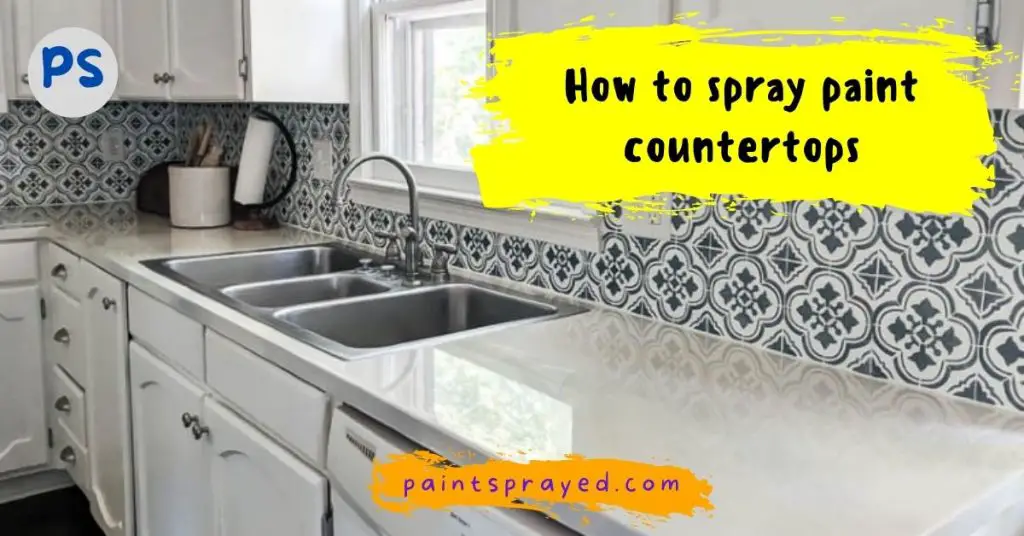 However, if you start from the front and work backward, sometimes your spray mists might cover up your previous spots.
This will look uneven, so we suggest taking your time if you go about it that way.
Steps to spray paint countertops
Steps to spray paint countertops are here below:
First, wipe off any dust and soap scum from your counters.
Use painter's tape to cover up the surrounding area. Make sure you get a thick layer of tape.
Put on your safety goggles – don't want to get any paint in your eyes.
Get your spray paint and start with a few light coats, allowing the paint to dry between each one.
After the light coats are complete, do a few heavy coats to really make things stick.
Remove the painter's tape when you're done — just pull it straight off.
You're done! You've successfully spray-painted your countertops.
Apply a clear coat on the countertops
Spray the clear coat when the surface of the countertops was completely dry after the spray painting. If you lack experience.
It would be better to ask someone to help you with the spray-painting job. However, you can spray the clear coat if you have experience in spray painting.
Spray paint the clear coat carefully and evenly on the surface of the countertops. Mix the clear coat in a plastic container first, in the proportion of 1 to 1, then mix well and spray.
Spray the clear coat on the surface of the countertops until it is uniform in color.
FAQ's
Conclusion on How to spray paint countertops
This is the complete guide that you can follow to spray paint countertops with your desired color without making any mistakes on the surface.
Newbies should follow each step explained in this guide In order to get a satisfactory result.
If you still find any confusion in following this guide then let me know in the comments section and I will clear it out as soon as possible.