When it comes to painting the bathroom, many people are not aware of the importance of paying more attention to the type of paint used and the technique you want to apply.
If you want to paint the bathroom, it is not only important that you choose the right color and finish, but also a procedure that will be able to meet very specific requirements.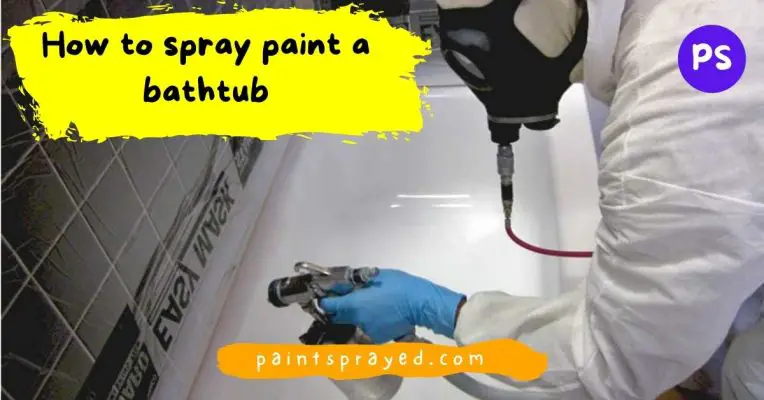 There are many factors to consider when selecting paint, but the key thing is that you understand the type of surface you need to paint.
Whether gloss, matt, or broken glass, you need to know if it has to be water or solvent-based.
This blog is designed to explain all the different types of aerosol paint and the best way to go about painting with them.
This step-by-step guide is very easy to understand because it is tried and tested for newbies who want to do this job by themselves
But don't know the method to get the perfect shiny finish out of their work. Follow each step and analyze the results after completing the whole procedure in the bathtub.
Tools we need to do the job
Comet Cleaner and Scour Pads for cleaning
400 Grit Sandpaper for sanding tub surface
Painter's Tape for covering those surfaces which we don't want to paint
Paint Roller for painting
Paint Brush for touchup
Plastic to protect walls and/or floors
Mask and Gloves for protection of ourselves
Prepare workplace for painting bathtub
It's important to clean the bathroom thoroughly and properly. First, open a window to let in some extra fresh air.
Run the bathroom exhaust fan for about 2 minutes to remove any humid moisture or residue from the room.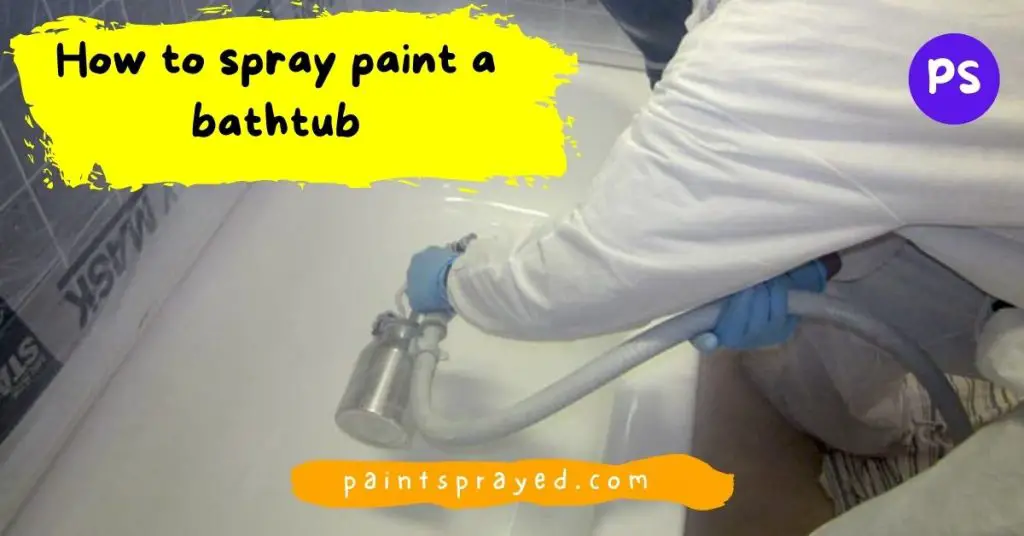 Next, begin with soaping down the tub then follow up with scrubbing cleanser followed by scrubbing with bleach.
It's important to rinse well and wipe out any remaining residue with acetone or thinner.
Just be careful not to get cleaned areas agitated or you'll risk getting dirt back into your freshly cleaned spaces. You might be looking for a method of removing paint from tile surfaces.
Sand the surface of the bathtub
Sanding is a method to smoothen the surface of the bathtub so that the new paint will stick to it easily.
There are a lot of sanding methods but here I will go with the most common one. Sanding will make the surface rough.
Applying primer to it will remove the roughness and some primer will be absorbed by the surface, so the paint will stick on the surface. Apply 400 grit sandpaper then 600-grit.
The primer will be applied better if the surface is not 100% smooth.  First, use a sander to remove the paint.
Second, use a sanding sponge or sanding paper to smooth the surface. Third, use a sanding sponge or sanding paper to remove the coarse sanding paper.
Start spraying
The next step is to prep the bathtub. Hold the spray can at about a 45-degree angle so that the paint covers a larger surface area.
Three thin coats are enough to achieve an optimal finish, making sure to cover all of the surface areas. Remember that it's always better to apply several thin layers than one thick one.
Clean the nozzle of spray cans after using them on the bathtub surface. Cleaning will prevent the nozzle from clogging.
FAQ's
Conclusion on How to spray paint a bathtub
The wait is over! Your bathroom makeover is finally complete, and it's time to take your first bath in your newly-painted tub.
However, you can't help but notice that the paint is still a bit tacky. If you were to get into the tub now.
You might get paint on your body and the inside of the tub, and it could even peel off the paint on the tub's surface.
So better to wait for 3 to 4 days if this happens when you touch the bathtub surface.
Still, if you find any confusion after following this guide then let me know in the comments section and I will try my best to clear it out as soon as I see your query.
We analyzed the results after completing the work and we got pretty good results.
I and my friends tested this guide and after getting satisfactory results we are suggesting you this method of painting bathtubs.