If you're looking for the right type of paint to help complete your next masterpiece, then look no further than these several different types of paints I have here today.
Whether you're looking for the beauty and glossy shine that's provided by oil-based paints or the high gloss, satin finish that resins come with – we've got them all here at your disposal to use on practically any type of wood surface.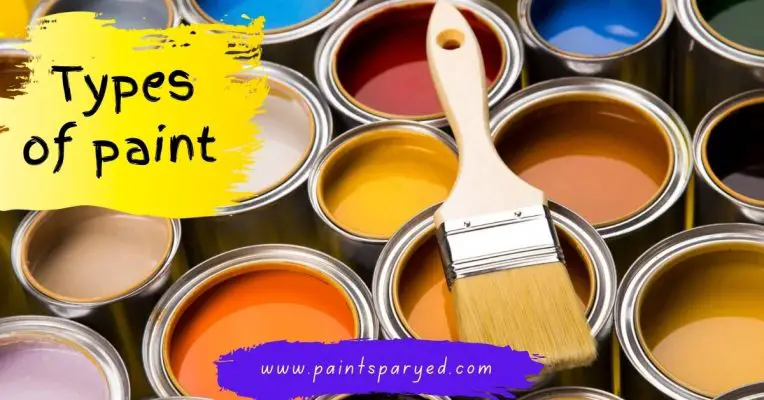 Formulated from a mixture of natural pigments, water, binding materials, and solvents these paints are designed to not just look appealing but stand strong against feeling everyday wear. I am going to explain the best types of paint sprayers as well as all the paint types which are being used from the market.
In addition, from a traditional fine art standpoint, acrylic paints give one an easy ability to correct small mistakes simply by adding more paint. We hope this has been helpful in assisting you in selecting the perfect paint for your art project.
Firstly, I am gonna explain the different types of art paints. Then I will explain the other types too in this post of mine.
Different Types of Art Paint
Acrylic
Acrylic paint is a versatile substance that can be used for many different things, from glazing and staining to water media techniques and many other applications. It dries smoothly, it isn't as durable as oil paints but its high hiding power makes up for it.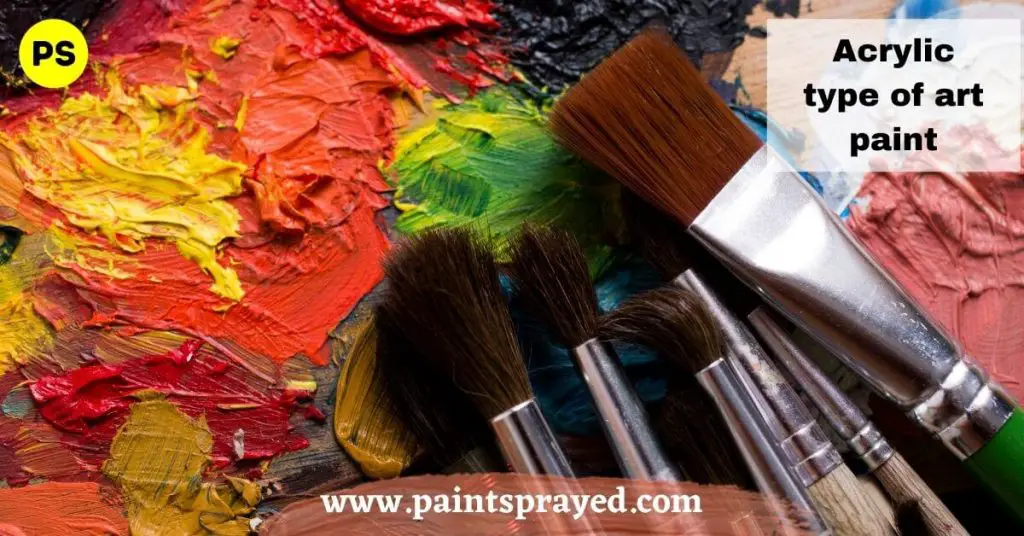 It can be applied on almost any surface imaginable, like canvas or watercolor paper. Acrylics are things you want to use if you happen to love painting with a fine brushwork technique.
Oil-based paint
Oil-based paint is very durable because it uses an oil base. It comes in a can and dries slowly so the artist has time to develop his or her work and make changes along the way.
The oil-based paints last a long time, they have great coverage, and you can blend them with others too. Not all paints are oil-based so keep that in mind when choosing your next painting too.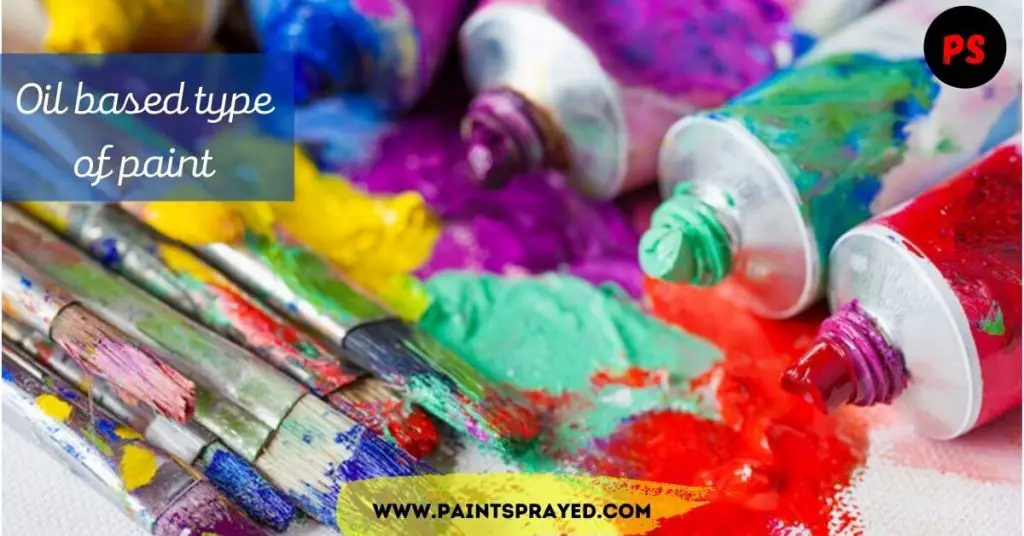 Watercolor
Watercolor is rendered with a paintbrush over the painted paper. The color pigment mixture is held in suspension with a binder like gum-Arabic that binds for stability on the painted surface.
Watercolor tends to add transparency and luminosity to a project. It is high-quality art media and can be expensive because of its difficult production process, but generally not prohibitively so as long as you have some source of supply.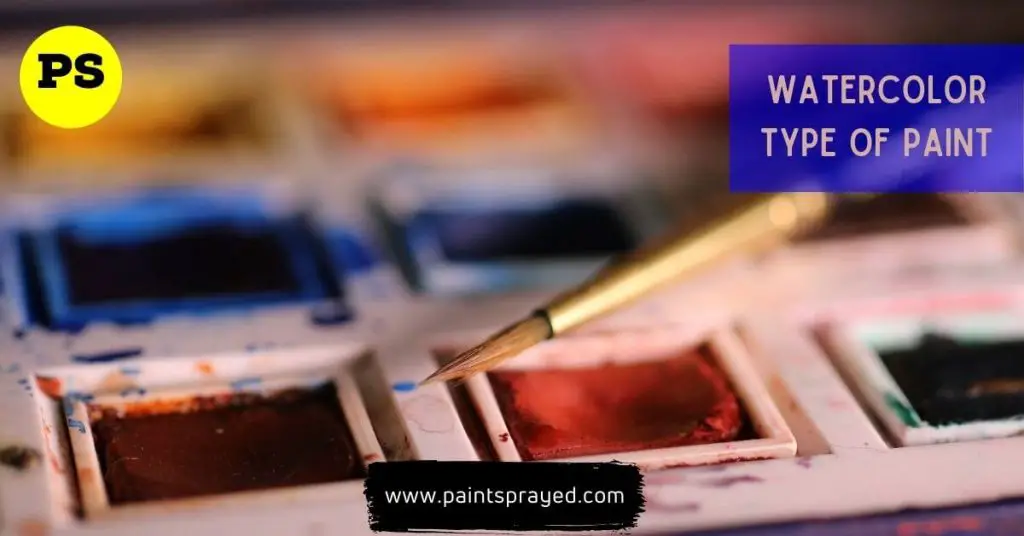 Gouache Art paint type
Gouache is water-soluble paint that can be blended easily and applied to the paper's surface without affecting the white of the latter.
It has a texture that differs from traditional paints, being significantly chalkier, but it allows one to depict detail in even a single drop of paint.
Thanks to its unique makeup, it dries darker. This kind of paint has a long life, so you don't have to worry about it drying too quickly and not being workable for hours or even days after application.
Encaustic
Encaustic is a wax-based paint that gives you the feeling of being in the studio of an artist who focuses on abstract expressionism.
The paint can be used to bring creativity into your project or for home decoration purposes as well. Encaustic gives you many options like using it as wallpaper, painting pieces, or even as a foundation for sculpture making, etc. Artists can work with this delightful material and create their own masterpieces.
Different Types of Wall Paint and Finishes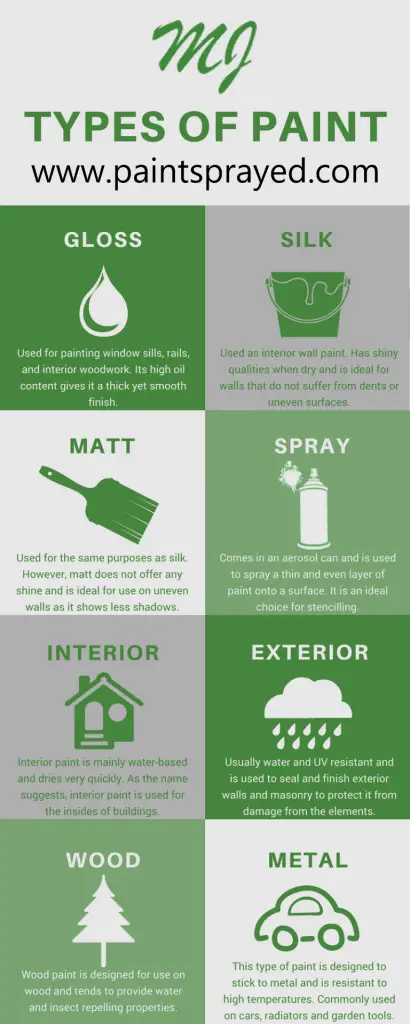 Now I will explain the different types of wall paints and finishes that I use for my projects and for my clients. Which makes me happy and my clients get satisfactory results after finishing.
Flat/Matte
Some paints are shinier than others and provide a more elegant look in the high-traffic areas of your home, but they require more coats to be able to completely cover while being less durable with touch or wear.
For example, kitchen and bathroom walls tend to need to touch up after every few years as grease stains and nail holes reappear.
Flat paints work best on surfaces that will not receive constant wear and tear like ceilings, which get dented over time if touched accidentally.
Eggshell
Some people believe that eggshell paint is for the inside of an Easter basket because it's got a super-shiny, slightly glossy surface that makes it attractive from multiple angles, even in indirect light.
It's a little bit more durable than flat paint but not quite as durable or reflective as satin or gloss finishes (but still can be easily cleaned with a wet cloth).
Eggshell paints are suitable for surfaces like wood (hardwood flooring and trim) because it has excellent coverage when applied in 2 coats.
Satin
Satin paints are the most common kind of interior paint finish. They have a velvety sheen and are easier to clean than flat and eggshell paints, which makes them an ideal choice for high-traffic areas like kitchens, playrooms, family rooms, bathrooms, and laundry rooms.
(Before you use a satin paint, however, we should tell you that their sheen, unfortunately, tends to reveal brush strokes making touch-ups slightly tricky down the line).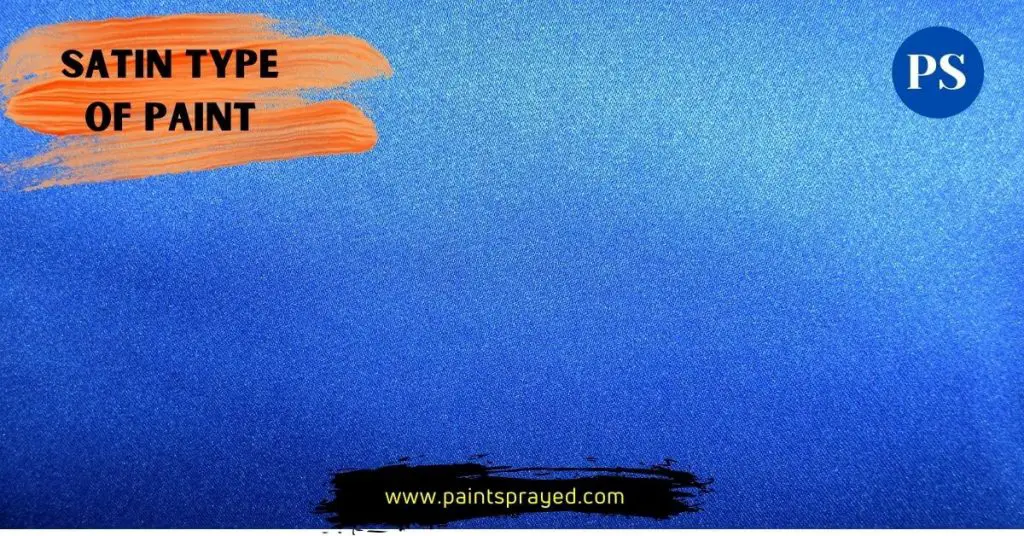 High-gloss
High-gloss is a brilliant, glossy finish, but don't be deceived by its shine; this paint option is also a toughie that only looks great because it's worked so hard.
High-gloss paints look inside and outside the house too, like shutters and door trim and cabinet doors. They're across-the-board paint—which means they can handle daily scrubbing. You got this finish, right? Don't let imperfections get in the way of your design vision.
Because they'll show up as flaws when you apply too much or poorly (use too little) of this family of paint on your surfaces.
Semi-gloss
Semi-gloss paints are shiny and reflective. They're extremely durable and mildewproof, so they're best used in rooms that get a lot of wear and tear or moisture, like kids' rooms, kitchens, and bathrooms.
They're also great for trimming. As a glossier finish, they will show imperfections more than less shiny paints.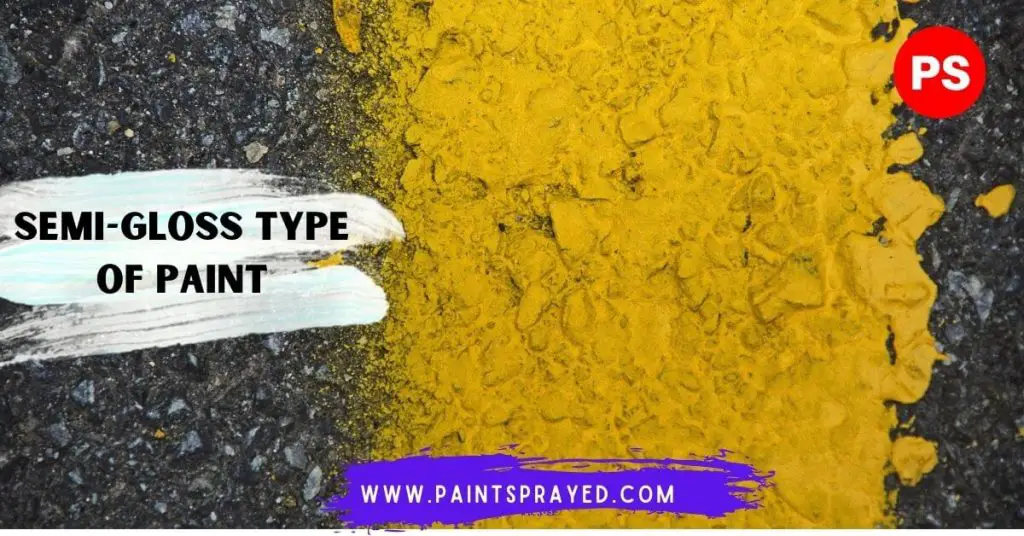 Which things to keep in mind while choosing finish?
Traffic
Perhaps the most important thing to consider when choosing a paint finish is the amount of traffic your room will endure; busy rooms like kitchens and playrooms will benefit from more durable finishes like satin and semi-gloss, while calmer rooms like dining rooms can get away with an eggshell or even flat paints.
Paint sheen
Paint finishes range from flat to glossy, with some grades in between. The shininess of each finish will affect the amount of light that they reflect back into the room, so if you want to try to help brighten a dim place, a slightly higher-gloss finish will do better than a flat finish.
Surface imperfections
The more reflective a finish is, the more it will show surface imperfections in the thing you're painting. If you want to paint a wall that has lots of nail holes or patches on it, you may want to consider less glossy paint because it will help mask those blemishes and keep the wall looking smooth.
Different Types of Paint for Interior and Exterior Surfaces
I have shared below some information regarding the finishes by room.
Best for Kitchens and bathrooms: Semi-Gloss
For the Bedrooms, Dining Rooms, Hallways, and Doors: Satin
For Ceilings etc:  Flat finish
For Decorating the areas: Eggshell
For Wooden objects and surfaces: High-Gloss
Paint types by base
Oil Based
When you're about to find wall paint for your home interior, it might be worth it to check out some oil-based ones. These paints are also known as penetrating oils.
They may have solvent properties and can even dry faster than water-based paints thanks to its linseed oil content. This substance is a natural product in which the consistency of paint can stay oily even after drying or curing.
If you want your walls or objects painted with this type of paint, they'll remain shiny without fading over the years.
It's great that this kind of paint comes at a bargain price too due to them largely being made from inexpensive raw materials like linseed oil, pigment, and resin. Remember though that you should apply one coat slightly thick so that no brush stroke becomes visible afterward.
Water-based
When you're deciding between water-based and oil-based paint, it's important to consider the different times at which the paints will dry.
Water-based paint dries a lot sooner than oil-based paint. Generally, one coat of water-based paint is going to be dry in a couple of hours when applied to interior walls of homes, while you're likely looking at 4+ hours for that same amount of oil-based paint to dry.
This means that you can make your work much quicker with water-based paints than with oil-based paints – not quite as costly or time-consuming.
Primer
Primer is an important part of the process that you may not realize how significant it is to your success when painting.
Primers act as a barrier between the old paint on your walls and the new paint you will be applying and can prevent bleeding from happening which would just make your life take longer and cause extra frustration.
Not to mention, priming prepares the surface for your upcoming coating giving you the best results possible for both time and money spent!
There are different types of primer, too: high hide, eggshell, and flat (blending) just to name a few. If you are looking to apply a light color over dark, the high hide is what you should choose to make sure it covers well.
This is especially important if you plan on repainting those same walls often although they do excellent with stains too.
Flat paint
The name makes flat paint seem worthless, but there are many reasons why a person might consider using this thinner option. It's very easy to apply, even on walls with previous designs and colors.
Its colors remain fresh longer than semi-gloss ones, making the surface look good for a long time.
This finish is not ideal for rooms that see a lot of sunlight or people walking on it as it can get scratched easily and lose its luster fairly quickly. If you're looking for a very budget-friendly paint type, then a flat is your best bet.
Matte paint
Matte finish paint is a little more durable than flat paint. Aside from the fact that matte finish paint is slightly more durable, it's also a bit more expensive than its counterpart.
A good idea that some people have to keep their home looking new and fresh is by painting their ceiling with matte finish paint.
If used on your ceiling this type of paint can save you money and do great things for your home decor. On top of being an affordable option and a simple way to freshen up your space, the matte ceiling gives your room some style in other ways too because it can mask areas where the texture shows through or any flaws in your wall color.
For instance, this special type of finishing touch serves as a fantastic way to hide any imperfections in your ceilings such as dings or flaking that you don't like seeing day in and day out.
Eggshell paint for decorating the areas
Eggshell paint is the way to go if you're looking for a finish that has a little sheen but not too much. It works great if you're trying to achieve something that looks just a bit shinier than flat paint but also isn't all that glossy and shiny.
For example, eggshell is often a deciding factor for people who are redecorating their kitchen or bathroom. You see, it's easy enough to clean so it doesn't take long and you don't have to worry about cleaning it off of your walls later on.
Overall, you should choose eggshell paint if you want to try something that looks good without going overboard… If you know what I mean.
Satin paint for bedrooms etc
Satin paint can be used in a similar manner as eggshell paint overall. It's just slightly glossier than eggshell, but it doesn't impact the performance very much in the end.
These two types of paint are closely related and are often applied interchangeably on most surfaces due to their similarities.
Satin paint is just slightly expensive but will work effectively for many home projects in any room. This is a good option if one wants to get high-quality paint at a reasonable price that lasts longer.
If you're not keen on painting your home but still want everyone who visits to notice how bright, cheerful, and clean your place looks, this type of paint does wonders for any interior space.
Satin I personally prefer vertical stripes (like these), but you can get creative however you choose. I tried it in my bedroom and it gave me satisfactory results.
Semi-gloss paint for interior and exterior purposes
Semi-gloss paint is a good way for a homeowner to go if they are looking for the best possible look for their space, but don't want to pay all that much.
These paints are known for being glossy, which adds a visual kick to your walls and can also make it so these surfaces are very durable in nature.
There are also plenty of moisture-resistant semi-gloss paints out there. This type of paint is great for bathrooms or even kitchens since these rooms typically have exposure to moisture on a regular basis.
It will help the paint really stand out within the space, which customers will love because when it comes to painting your home's interior there's nothing more eye-catching than some fresh paint with an appealing glossiness. I used it for my fence and it was great.
Latex-based
Always read the label of a can of paint before you purchase, especially when it comes to latex-based paints.
Some paint may be labeled as water-based even though it isn't entirely and some latex-based paints may contain chemicals that qualify them as oil-based instead, so knowing what you're getting is key.
Ultimately, water-based paints can be great for many situations but some people do prefer the look and feel of oil paints for example on their walls at home because they dry slower and give joint two more times to 'set', increasing durability and longevity.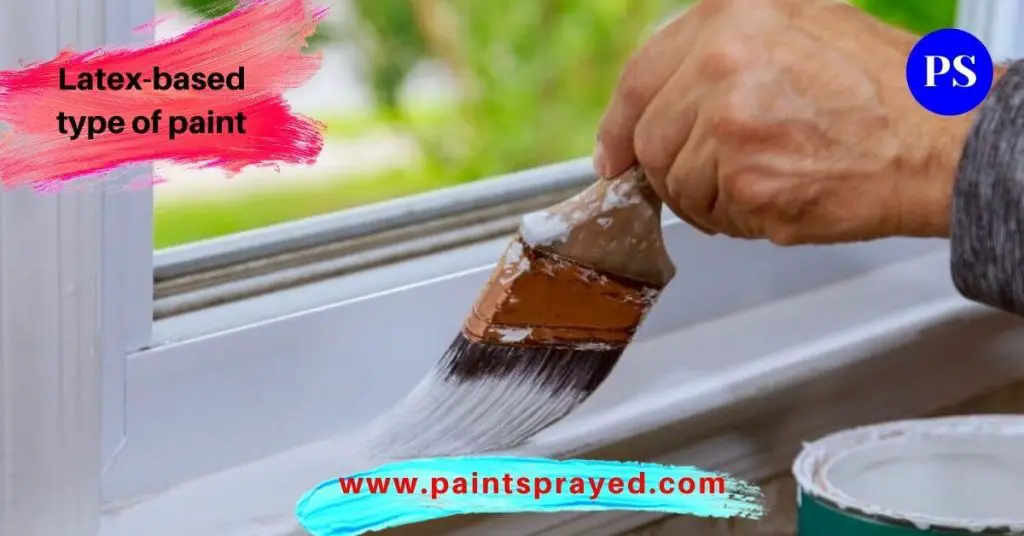 However, if you're looking for a paint suitable for use in your garage or workshop as an example then such slow drying times aren't needed so obtaining water or solvent-based latex paint could be a suitable option.
Gloss paint for interior purposes
Gloss paint is one of the most commonly used finishing paints in homes. For many years homeowners have chosen this type of paint to decorate their homes with and it has stood the test of time.
Gloss paint is widely recognized for its ability to provide not only aesthetic appeal for an area but also durability and easy cleaning capabilities due to its smooth nature.
I used it for painting my desk which I use for my laptop and other accessories. And these paints gave an excellent cool effect on the eye.
Enamel paint
Enamel paint is a lesser-known choice out there and it's something that you might want to look into. This type of paint is very durable and resistant—even outside where it can protect things like residential houses for instance.
While not commonly used, it can suit your project really well, so you need to give it some thought! It covers surfaces in a very thick coat (think: the rings on bathtubs!) and actually might be better suited as a primer before using another coating over it because of how thick the initial layer is.
This paint I have used for my table is outside my house and this paint was very durable. You guys might give it a try if you are looking for durability.
Chalkboard paint
Since the advent of technology, most people have forgotten about traditional art and the advantages it offers.
However, some creative, ingenious individuals never stop looking for alternative means to express themselves, although some might not even know that others like doing the same thing!
This has led to a revival of an old idea – chalkboard paint is what its name suggests and that is creating a chalkboard surface that you can actually draw and write on with chalk.
It's a good way to warm up any room or touch up an old-school vibe in your bedroom, living room, or even kitchen.
FAQ's
Conclusion on Types of paint
Here it is peeps. All the information and knowledge which I had in my mind with all these years of painting is in this post.
Hope this helps you, especially the new guys who are confused in choosing the right paint for their work and for the surface. Professionals from this field should comment and help the newcomers by sharing their experience with these paints. Happy painting.