Spray paint wood letters are really popular for DIY home decor projects or for office decor. You may have seen the big A or the big D on rentals around South Florida.
These wood letters are spray painted and then affixed to a home. Many property owners like to personalize their houses with their initials or family name.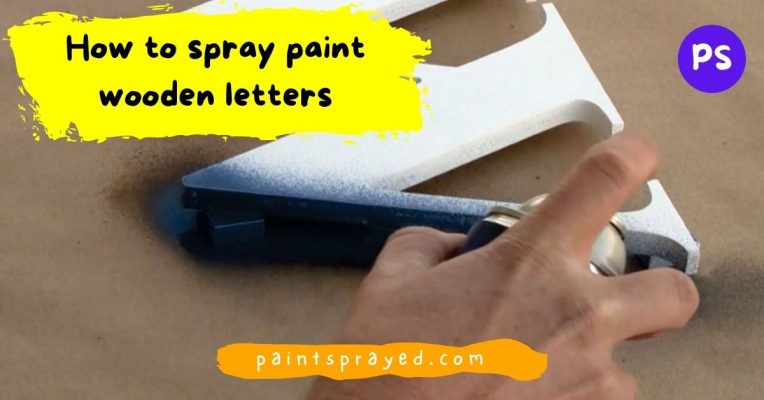 These spray paint wood letters are easy to make if you have the right tools and a little prep work.
The methods explained in this guide are written for those newbies who are confused to do this job by themselves without creating any mistakes on the wooden letter surface.
These methods are tested by myself so don't worry just follow each method explained in this step-by-step guide in order to achieve the best results.
Wooden letters are not just for recently decorated houses. Letters can be used for your wedding; birth announcements and other home decor uses.
Wooden letters make excellent decorations. They can be used as a single decoration or as part of a wall of decor.
Tools you need to do the job
Wooden Letters
Paint
Spray Paint
Paint Brush for touching
Sandpaper for surface
Paint tray
Protective paper or masking tape
Sand the surface of wooden letters
Spray paint on the wooden letters will make them look shinier and more vibrant. However, if you have a vintage wooden letter that you have used for a long time.
It will be a little bit hard to sand it. A method to sand the wooden letters before spray painting is as follows:
First, you need to wear gloves and an apron to protect your clothes and keep your body away from the dust.
Then you can use a sanding block to grind the letters very well. Then you can use a power sander to make the surface smooth. After that, you can paint the letters with spray paint.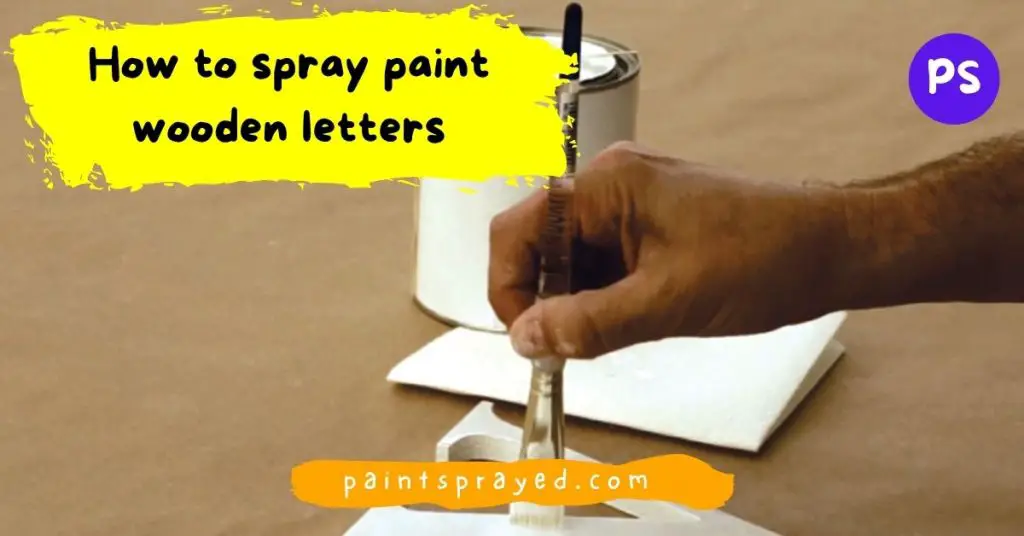 Paint the edges of a wooden letter
If you want to paint the edge of wooden letters, then you should first sand the letter. After then, you can paint the edge in any color.
For example, if you have a dark red letter and you want to paint the edge of your letter white.
Then you should apply white paint on the edge of your letter and then you should apply red paint on the white paint.
You can also apply red color on the edge of your letter and then apply white paint on top of your red paint.
The final result will be a perfect red edge on the letter. Wondering about the method to remove paint from wooden chair.
Start spray painting letters
To spray paint properly, use a high-quality brush, a paint mask, and a respirator mask, as well as a hose and a garden sprayer.
The hose should be attached to the nozzle, and the sprayer should be connected to the hose. Before you start, tape off the areas that you do not want to paint.
Use a mask and eye protectors to keep the paint out of your nose, mouth, and eyes. This will help you to avoid any health problems.
Use a sturdy ladder to elevate the can of spray paint above the object that you're painting. This will keep the paint from running down the sides.
Place the bottom of the can 6-8 inches from the original letter. Cover your work area with newspaper and spray from one side of the letter to the other.
Starting and stopping at least a couple of inches outside of that so that you don't get paint on your hands or desk.
Also, reach around to coat both sides completely. If needed, re-apply additional coats until you are happy with how it looks.
FAQ's
Verdict on How to spray paint wooden letters
This guide is based on a tested method that I have been using for years and years and it gives me results.
Whenever I paint for myself or for my clients and when they analyze and see the results they get amazed.
This guide is useful for those newbies who wanted to do this job but are hesitant to do this by themselves.
Don't worry just follow this whole guide and analyze the results after completing the work and it will be a treat for the eyes.
Whether the letters are for your own self or for some wedding or event.
Do let me know in the comments section if you have any question which troubles you while following this guide and I will explain them to you as of first priority.
Till next post adios my painter fellas and take care of your painting equipment and take good care of yourself.