Here is the complete guide on shutters and a guide about different paints used to paint shutters. I will share my experience regarding the painting of shutters with spray paint and how much it is required to paint.
This guide will be beneficial to newbies, so follow the guide. Some projects that are sure to stand out – use 8 cans of spray paint! We painted 12 vinyl shutters with 8 cans of paint. That's a lotta color!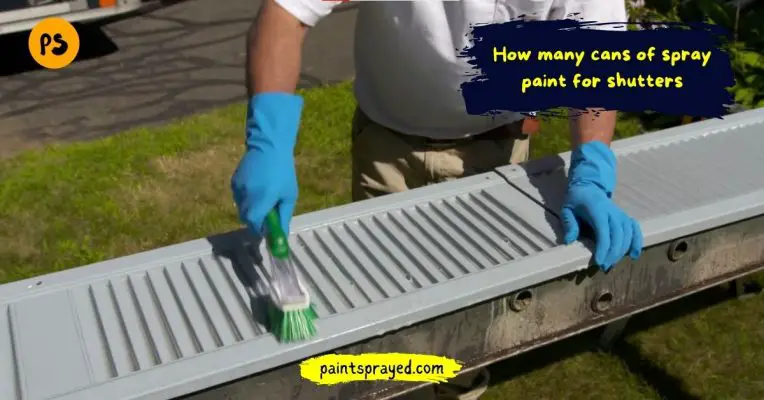 The best spray paint for shutters according to my experience is Rust-Oleum 327950-6. It gave me satisfactory results when I used it on my shutters. And the second best spray paint for shutters is Krylon K01305 Gallery Series it also gave me great results when I used it. These two spray paints are best for plastic and vinyl shutters.
I have also used the best cordless paint sprayers for painting shutters if you don't want wires in your way and if you are tight on budget then you can check my guide on the best paint sprayers under 200$.
So stick to the post to learn the procedure for painting shutters with spray paint.
How many cans of spray paint for shutters
Now I will explain all the steps which a newbie can follow in order to spray paint shutters at home with basic tools which you can easily find in your garage or nearby hardware store. Don't miss any step which I going to explain because you can mess up the surface.
Best spray paint for vinyl shutters
Dupli-Color High Performance Vinyl Spray paint
Best spray paint for plastic shutters
Krylon K02758007 Fusion All-In-One Spray Paint
Best Rustoleum spray paint for shutters
Rust-Oleum 7798830 Spray Paint
Best Rustoleum spray paint for vinyl shutters
Rust-Oleum 245210 Universal All Surface Spray Paint
Best krylon fusion for vinyl shutters
Krylon Fusion ALL IN ONE spray paint
Tools you need to spray paint for shutters
Spray paint
Soapy water
Brush for cleaning
Gloves
Goggles
Respirator Mask
Towels or rags
Newspaper
Cardboard for testing spray paint
Drop Cloths
Wear Protective Gear
There are a few things you need to do to make sure you're properly protected when spraying painting shutters. First, you'll need to put on a respirator to avoid inhaling any fumes.
Next, you'll need to put on some gloves to avoid getting paint on your hands.
Finally, you'll need to put on a pair of goggles to protect your eyes from the paint. Once you have all of your gear on, you're ready to start spray painting!
How to choose spray paint for shutters?
There are a few things to consider when choosing the best spray can paint for shutters. The first is the type of paint. There are two main types of paint, water-based and oil-based. If you are interested in removing spray paint from tires then you can check my guide by clicking here.
Water-based paint is the most popular choice for shutters because it is easy to apply and clean up. However, oil-based paint provides a more durable finish.
The second consideration is the color. White is the most popular color for shutters because it is classic and versatile. However, there is a wide range of colors available, so you can choose something that matches your home's style.
The third consideration is the finish. You can choose from a glossy or matte finish. Glossy paint is more durable and easier to clean, but it can show imperfections more easily.
Matte paint is more forgiving, but it may not last as long. I have also tested HVLP spray guns on shutters and I have reviewed the best HVLP paint sprayers in the market you can also check those if you are interested in HVLP paint sprayers.
Once you've considered these factors, you can choose the best spray can paint for your shutters.
Can we use Rustoleum spray paints for painting shutters?
Rust-oleum spray paint can be used on shutters. I recommend applying three coats of spray paint if the shutters are dark.
Make sure you leave the shutters to dry between coats. It is possible to get Rustoleum spray paint in a plastic spray can. This will allow you to get even more coverage due to more even spray over the whole shutter.
I have used Rustoleum spray paint to paint my dark brown shutters and they look very professional. My shutters have been up for five years now. If you want to remove paint from bricks' surface then check this guide. So, as you know that you can use rustoleum spray paint for shutters painting and give them new life so get rustoleum spray paint for shutters.
Can we paint shutters with spray paint?
Spray painting shutters can be a fun and unique way to customize the look of the home, but make sure to get the right type of paint for the right surface. First, start by cleaning your shutters to remove any dirt or dust.
You may want to sand down the surface of the shutters to give the paint a good surface to stick to. Prime the surface to ensure that the paint stays on for a long time. Have a look at this guide to remove paint from the vinyl floor.
Then, choose your type of paint. If the shutter is made from wood, use water-based paint instead of oil-based paint. Because shutters are generally outside, they need to be protected from the elements and extreme temperatures.
If you don't have the right type of paint, you could risk the paint peeling or fading prematurely. Finally, paint your shutters! Get creative with different patterns and designs.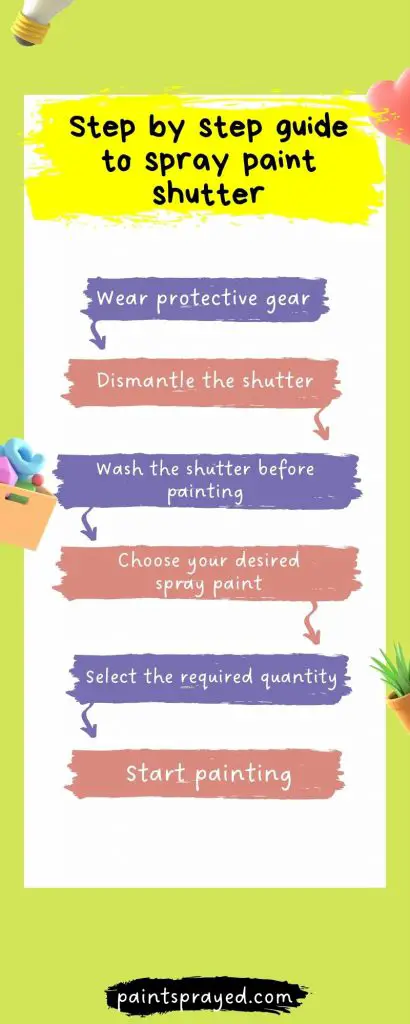 How many cans are required to paint shutter?
You will need at least 1 can of spray paint to paint 1 shutter. Spray paint is not a very expensive product, but it is your best option to paint the shutters quickly. Cans of spray paint for shutters also depend on the shutter length and width.
There are many different brands of spray paint, so you may want to consider what colors will work best on your shutters, and which brand will give you the best quality.
If you need help deciding which brand, or what color to use, you can post your question to our community. I have also explained the method to remove paint from wooden surfaces.
Which is Best Paint for painting of shutters?
Personally, I use Krylon Fusion for my projects. Although it is slightly pricey, it is worth its price because of the quality and the finish that it gives.
It does not give off a shiny appearance after drying, nor does it leave a sticky feeling. It dries fast and it gives a textured finish.
It is also possible to be applied on different surfaces, like wood, plastic, concrete, glass, etc. The paint is available in different colors, so choose the one that best matches your tastes.
Can we use Rustoleum to paint vinyl shutters?
The answer is yes, you can use Rust-oleum paint to paint your vinyl shutters and a lot more. That's because Rust-oleum is one of the most versatile paint and is used in a wide range of applications. At the same time, it comes in a wide variety of colors. Also if the paint is dropped on the driveway then view this guide to remove spray paint from driveway.
Can we use Rustoleum spray paint for outside projects?
Yes, Rustoleum spray paint is one of the most common brands of spray paint that people use on their cars, as well as on wood, metal, stone, and all sorts of other things.
The key thing to remember when using Rustoleum spray paint is that it's not high-performance paint, and it's not meant to be used on a regular basis. If you plan to use the paint outside, it's important to understand that it will not be as durable as other outdoor paints.
If the paint will just be used on the side of a house or shed, though, it's very good. It will last for several years, and will not begin to peel unless it is exposed to water for a long time. If spray paint is dropped on phone screen then this guide can help you out.
It's also important to remember that Rustoleum spray paint is not painted that you'll just be using on a wall indoors.
It's meant to be used on objects that are going to be exposed to rain, snow, and other elements, like the sides of houses, car bodies, and birdhouses. If you're looking for paint that will last longer outside, you should look into paints that are meant for the elements.
These are paints that are designed for things outdoors and will last for a lot longer than Rustoleum spray paint.
Should we spray paint or simply paint the vinyl shutters? Which one is best method
The easiest thing to do is to use spray paint, but you should do a proper prep before you do. First of all, you need to remove any dirt or oil which can be done with a garden hose with some soap. Let your vinyl shutters dry for 24 hours before you start.
Make sure that your shutters are clean and dry. The inside and outside areas must be dry and clean before you start painting. This is an important step in the process. All tools and the area must be clean and dry to avoid any mistakes and smearing.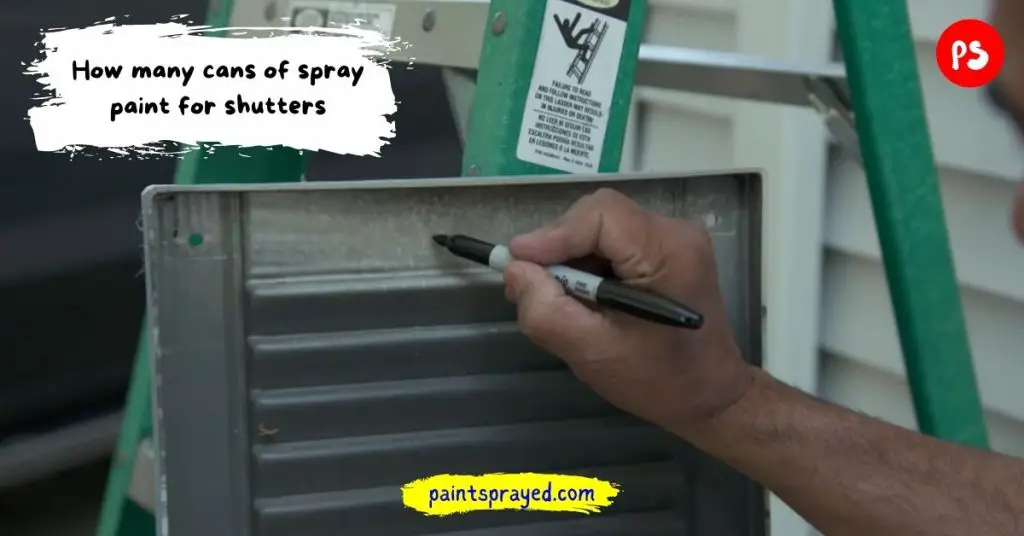 You can use a spray can with a plastic cup wide enough to hold the shutter in place. Place the shutter flat into the spray paint and make sure that the shutter is covered with the paint. The spray paint must be applied evenly over the entire shutter area.
After you are satisfied with the coat you can move on to the next one. You need to apply at least 3 coats of paint. Make sure that you let each coat dry before you move on to the next one. You should allow a minimum of 48 hours between every time you paint.
Which is better to paint shutters Spray paint or brush?
While it is true that most people brush to paint their shutters, it is actually not recommended as much as spray painting. That's because it is much faster and since you're just painting onto wood, is much easier to achieve a nice finish.
You can buy a special spray that will help to make the shutters look even better, but the main thing is just to get a high-quality finish.
The only thing you might have to worry about it is dust getting in the paint. However, if you do spray the shutters, it will be much easier to get the paint to cover the entire surface.
What of paints can we use to paint shutters?
Well, it depends on the shutters. If you have painted shutters, then you might already have some idea about the paint to be used.
But if your shutters are made of wood and have never been painted before, then you should use oil-based wood paint for such types of shutters. Oil-based paints will give you more protection against heat, moisture, salt, and other things that ruin wood in time.
If you have painted shutters, then you might use latex paint, but you should know that latex paint doesn't last as long as oil-based paint. In any case, always take the advice of someone who knows what they are doing.
How much area 12 Oz spray can will cover?
This can also vary depending on what area of the house you're painting, but on average, you can expect to cover about 400-500 sq. feet with one can of 12 oz. spray paint. If you need to paint a larger space, we recommend doubling up and ordering two cans.
How much area a spray paint covers?
In most cases, a can of spray paint will cover an area of about 50 square feet. However, this is subject to the thickness of the paint and the texture of the surface.
Also, you should consider the fact that the spray can cover a much larger area than what you actually see. Sprays can often spray in a fan shape, and this means that the spray can actually cover more than the square feet you see.
FAQ's
Conclusion
Here is What I had in my mind throughout my career in painting. This information which I have shared will be helpful for newbies I am sure about it.
This post which I have covered has almost each and every question which can arise in a newbie's mind about spray painting a shutter. This guide covered the topic of How many cans of spray paint for shutters
Comment down here if you have any queries in your mind I will answer them. And if you have any tips or information related to this post kindly comment down I will for sure note that down.