This guide is for those newbies who want to spray paint their dresser by themselves and want desired finish out of their work. Follow each step explained in this guide in order to save yourself from mistakes which can mess up the surface of dresser and later you will feel regret that you might have followed some sort of guide at first place.
There are a lot of different ways to paint dresser! We have our favorite methods and it may be different depending on the item we are spraying or painting.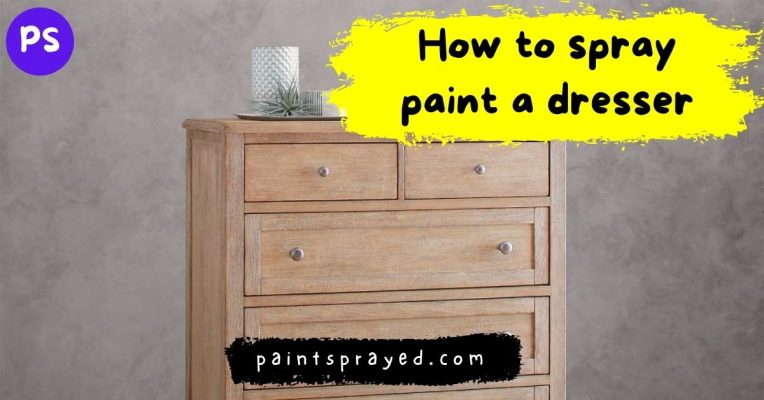 Check out this blog and let us know what you think of this method! Do you have a better way? Let us know in the comments section.
Tools you need to spray paint dresser
Sprayer
Sand paper or sander
Primer
Painters tape or Newspaper
Drop clothes or rags
Paint
Gloves for protection
Glasses
Face mask
Protective gear
Clean the dresser
Cleaning dressers before repainting is important, because it gets rid of the old paint, and prepares the surface for the new paint to adhere better. It's much more cost-effective to clean the surface of the furniture than to repaint again.
You can paint dressers with latex paint and polyurethane. Depending on the condition of your dresser and the amount of pain you're comfortable with, you can clean your dresser by hand or use machines to clean your dresser. The best way to clean the paint from your dresser is to use the method that preserves the integrity of your dresser.
Sand the dresser
There are lots of methods to sand dresser before painting. The easiest yet most time-consuming way is to use hand sandpaper. Wipe the dust off the dresser with a damp towel. Use 100 grade sandpaper to sand the dresser. Sand it in circular motion to make the job quicker.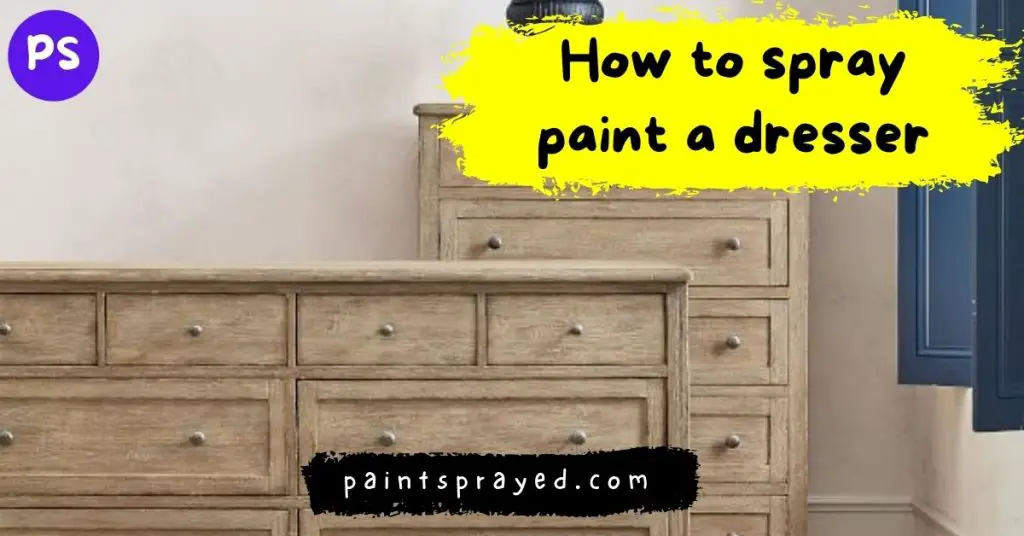 Make sure to sand in the direction of the grain. You can use 120 grade sandpaper if you like. Use 150 grade sandpaper in places where the finish may have been chipped away. Sand lightly as to not sand through the finish.
Prime the dresser
Prime your dresser with one of the following options: First-coat primer, and then paint it. You can find this kind of primer at your local building supply store. It is specially formulated to serve as a primer and paint in one. Using a primer made for cabinets is a great idea, since it completely seals the wood and keeps it from absorbing paint, allowing you to save a coat of paint.
However, if you don't have a local store that sells cabinet primer and you can't wait for shipping, you can also use a spray-on primer, which you can also find next to the paint at your local hardware store. Prime, then paint.
This method is much more time consuming and will take a few days to finish, but it works well if you've got a lot of small projects going on and can't finish painting them all at once. Prepping the wood before painting it gives it a more polished look, and it also helps prevent the paint from peeling off of the furniture.
Start spraying dresser
There are 2 ways to spray paint dresser. The first way is to get the dresser wet, let it dry and then spray with a primer coat. After the primer coat dries, add a few coats of your color of choice. The second way is to do a light sanding on the dresser. Spray paint which is the color of your choice. A light sanding may be necessary in some places. No primer is needed for this.
Spray painting is a great way to make a piece of furniture look more modern and modern, and the process is pretty easy. First, you'll need to prepare the surface. Sand it, and clean it well. Use a tack cloth to get rid of all the dust, then vacuum the entire surface to make sure you don't have any bits of dust or fluff. Next, you'll want to prime it.
You can do this a couple of different ways. If you're going for a super smooth, glass-like shine, you should use a spray-on primer. If you're going for a more distressed look, you can use a brush-on primer. After you've primed it, you'll want to wait for it to dry completely.
Then you can paint it. Leave some time to dry here as well. This is good practice for any kind of paint, but particularly with a spray paint. It needs time to dry and set before you can put any weight on it. I usually leave it overnight.
FAQ's
Summary
This is the complete guide for you peeps out their who were confused to spray paint dresser by themselves. But don't worry this guide will eventually give you the desired results which you want after completing the whole procedure of painting dresser.
Still if you have any question raising in your mind then let me know in the comments section and I will try my best to clear out your confusion. Till next time take good care of your self and your painting equipment's.