Have you ever wanted to touch something up by painting it or giving it a fresh new look? Painting can be a great way to do this and bring new life to objects.
But when the object you want to paint is made of brass, such as lights, fixtures, and hardware, things get a little more difficult.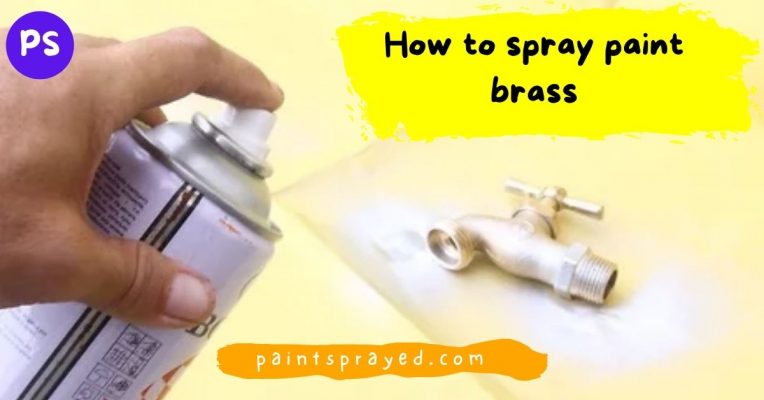 Can you paint brass? The answer, actually, is yes you can. The tricky part is to properly clean and prime the metal before painting.
This will provide a good surface for the paint to stick to, and make the painting job smoother, more even, and longer-lasting
Brass is a metal and it's one of the metals that I have painted the most. I have painted a lot of my brass with spray paint, but I have also painted some with brush on enamel paint.
I think that the spray paint is much easier to use and much more forgiving. So, I generally recommend using spray paint if you are going to paint your brass.
This guide is tested by my painter fellows and they have analyzed best results after following this step by step guide.
Prepare workplace for painting brass
When you're working in a well-ventilated area, such as an open garage or large room with windows, paint fumes won't affect you as much.
Wear a mask and be sure to cover your floor with drop cloths to protect it from paint splatter. If you're going to work on an object or furniture piece, place it on top of the drop clothes.
When you start painting, open the windows and turn on any vents in the room to help remove paint fumes.
Prepare the surface of brass
If you plan on painting your brass piece, the first step should be to scrub it with steel wool. This will provide a nice base for the paint to stick to.
If necessary, use a small brush to get into grooves, crevices and hard-to-reach areas.
Begin by sanding the entire piece with light pressure. Once you have sanded the entire surface, make sure to continue sanding with a higher grit sandpaper.
You should remove any colored residue from the sanding process.
Clean the surface of brass
Before attempting to paint it, clean the surface of the metal with a degreaser.
Removing oils, dirt, and grease from the surface of the metal before painting is central to creating an ideal finish.
If there are any oils, dirt, or grease left on the brass when you paint, you'll find that your paint will not adhere properly.
To fix this problem, make sure you dampen a lint-free cloth with degreaser and wipe down the entire surface you wish to paint.
Wipe it again with a cloth dampened in water after ten minutes and set it aside to dry.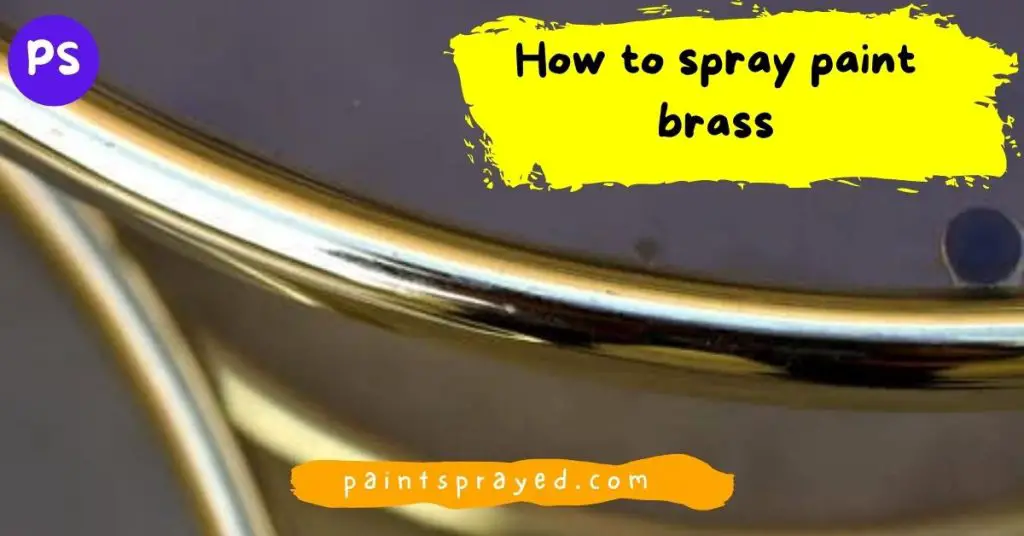 Select spray paint for painting brass
Select a spray paint that is compatible with metal – such as enamel paints, acrylic- or oil-based products, or other hard-drying paints.
Most paints which are compatible with metal will be sprays, but liquid roll-on spray paints may also be available.
Apply primer on brass
Apply a primer coat. It will adhere best to brass if you use acid-zinc primer or self-etching bonding primer.
This acts like acid and zinc, and it's really easy to apply. Just shake the can, hold it six to eight inches from the metal, and go side to side in a sweeping motion while applying a thin even coat evenly over the whole surface.
Let the primer dry for roughly 24 hours, or be sure to follow whatever other guidelines your chosen brand of primer may recommend.
Wear all proper safety equipment when using spray paint such as gloves, safety glasses, and a mask to avoid damaging your body with long-term exposure.
Even when scrubbing with steel wool and elbow grease, brass doesn't exactly have the best surface for painting.
That's why self-etching primer is so important in ensuring a safe topcoat over brass.
Start spraying on brass surface
Primer then paints. Once primer is dry, prime the piece with a coat of Lacquer (available from Museum or Conservation suppliers).
Paint the brass object in several thin coats using a sweeping side to side motion.
Hold the brush six to eight inches (15–20 cm) away from the surface and apply each coat "in the same way" to build up enough layers so that there are no brush marks visible after drying – this takes practice.
Make sure you let each coat dry thoroughly according to the manufacturer's directions before putting on a second coat.
Depending on the effect you are trying to achieve and how much paint you need, you may end up needing between two and five coats of paint.
If your paint came in powder form, use a brush or roller to apply thin, even coats.
Apply clear coat
Once the paint has set and is dry, you can apply a clear top coat to seal it in and give the set piece a shiny finish.
One thing you should be sure of when choosing between all of these different spray paints is that they are safe for metal.
Also note that there's more than one spray canister for applying coats available for sale; choose based on your needs – things like coverage or drying time.
Dab each can in an upright position about six to eight inches (15-20 cm) away from the surface you're painting and then move it back and forth in a side-to-side motion as you apply the coat evenly over the piece.
FAQ's
Summary of How to spray paint brass
We hope this article answered your question about painting brass.
As long as you know the brass is not an important part of the design and it will be painted, then you can go ahead and paint it.
If you have any other questions about painting brass you can contact the crew in comments section and we will answer your query as soon as possible.
This guide is best for those newbies who are hesitated about the whole process and thinks that it is very difficult and it seems to be very hard to them.
But this tried and tested guide will help you to achieve the results you want as you see in pictures.
My painter friends applied this guide and analyzed the results and got to know that this guide is very useful and best for new comers in this field.