If you're looking to update an existing lamp shade, there are a variety of ways to do so. The best way will depend on the color and material of the original shade and the look you want to achieve with your new lamp. Changing your old lamp into a new one can be easy!
There are a lot of ways you can revamp an old lampshade or give it a completely new look. But the basic idea is to literally just repaint it with any type of paint that you prefer.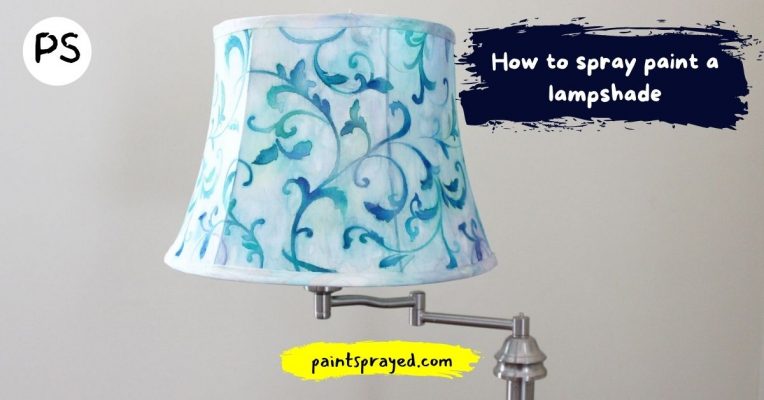 You can spray paint it or use brushes to hand-paint on the lampshade however you'd like as long as you choose your favorite color to create a brand new, unique look for your home.
Then all you'll need to do is match your brand-new lampshade with a simple lamp and voilà!
Preparing the lamp
In order to take the lampshade off, first, start at the bottom of it using your hands to pull it up and off.
Once you've removed the middle "chunk," you're ready to unscrew anything that may be holding the rest of the lamp's covering in place.
In most cases, this will be a couple of nuts or bolts at the sides – unless you have a top lampshade where it's more likely those things may be screwed into the ceiling or ganged around the light bulb instead.
Covering the top
To cover a lampshade that's being repainted, a DIYer must first protect the lampshade by placing plastic bags over its top.
Clear plastic grocery bags offer the most flexibility and accessibility, as they can be placed over any metal parts at the top of the lampshade when it comes time to paint it without having to use tape or fasteners.
The bags should then be taped to the inside edge of the lampshade with masking tape or blue painter's tape, avoiding contact with any paint set aside in buckets on a nearby workbench to avoid getting spray paint on places you don't want it.
Overlap many plastic bags in order to conceal different areas of the lamp as fully as possible before painting. You might want to learn spray paint chrome surfaces without creating any mess.
Placing newspaper on the surface
When it comes down to protecting your favorite clothing from unwanted paint splatters while decorating, we have an easy solution to try.
In the interest of preserving one's wardrobe and living room carpets, try laying out some old newspapers or other paper on a flat work surface in 2-3 layers – ideally ones that will not be stained by paint.
Start spraying
It is really important to make sure that you are spraying the lampshade evenly. It is essential that it doesn't come out blotchy or uneven in any way, so take your time and spray evenly all over.
The most important thing to remember when painting a lampshade this way is not to let it get too thick on the surface because if the paint comes out too thick, it will be difficult to adhere to it later.
While using this type of spray paint, letting it sit for a few hours after spraying will help it cure (dry) before you move on to the next layer of paint.
While applying paint, it's important to follow a specific technique so you get the best possible results. One of these methods involves painting from the top of a surface and working your way downward (and continuing in that direction as you work).
Also, consider ways to apply a lighter color paint or spray over a darker shade applied beforehand. Lighter colors illuminate the darkness underneath allowing light to highlight your artwork.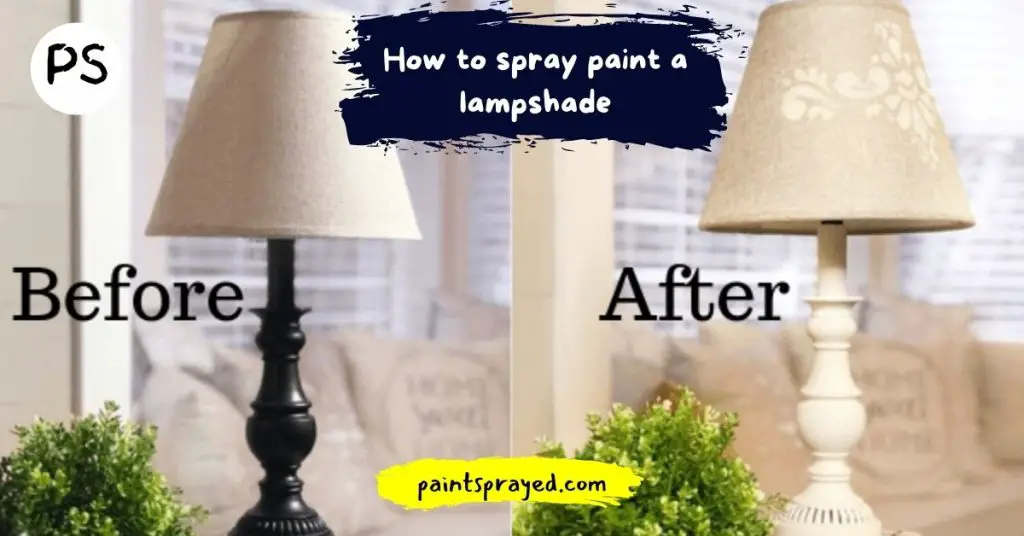 When you've successfully attached your stencil, it's time to paint. First, prepare the surface by cleaning it with a lightly dampened cloth and making sure any dust or dirt is removed.
Slightly dampening the paint with water will allow for a smoother finish. Following these simple steps will help ensure that your lampshade will look as polished as possible.
Spray painting the lamp
Another option to achieving a new lamp shade color is by using spray paint. This method works on nearly any fabric, can cover an existing design, and can be done when attempting to make the shade lighter or darker colors.
To begin, use painter's tape to cover any metal fixtures you do not want to be painted. Also, cover the interior of the shade if you wish to retain the original color on the inside.
Next shake your spray paint can and use even movements to spray the lampshade with a thin coat, being careful not to miss any spots.
Set it on the newspaper that has been covered in paper towels and allow it to dry fully before checking for missed spots. You can repeat this process as many times as needed until you are satisfied with the new shade's color.
Painting with brush
If you're going for the DIY look without a spray can, grab a paintbrush and paint the shade by hand! This works in case you need to cover a larger area on da lamp, such as with stripes.
Aside from using a paintbrush and acrylic paint, make sure to have your work area set up exactly as it would be if you were using spray paint.
Put newspaper over the floor near where you will be working. Also, make sure your lamp is turned off and unplugged.
Chalk paint is a great choice for people who want an antiqued, cracked finish to their lamps. If you'd like a less striking finished look.
You can also reduce the amount of chalk in the mixture so that it's only partially mixed into your paint and the surfacing has more texture.
Check after finishing
Attach your lampshade back onto your lamp once it's dry and turn it on. Leave it on to see if another coat of paint is needed.
Once you're sure that you've achieved the desired finish, place your light source back onto its base and turn it on to illuminate your room with comfort and ease!
FAQ's
Conclusion on How to spray paint a lampshade
The complete guide to spray painting a lampshade in your house is here written by me. This guide will help newcomers in completing their project of lampshades for their own homes or for their customers.
Comment down if you have any confusion or question in your mind.