This guide will teach you complete step-by-step process on how to paint metal door and save some fortune. This step by step guide have the complete process from prepping the door to priming with my own techniques which are from my experience. You can quickly and easily achieve the desired results which you wanted for your door surface.
Painting a metal door is so easy and does not require much equipment. You can paint doors for a living or for your own home to save money. You only need a few simple steps to follow to get the best results.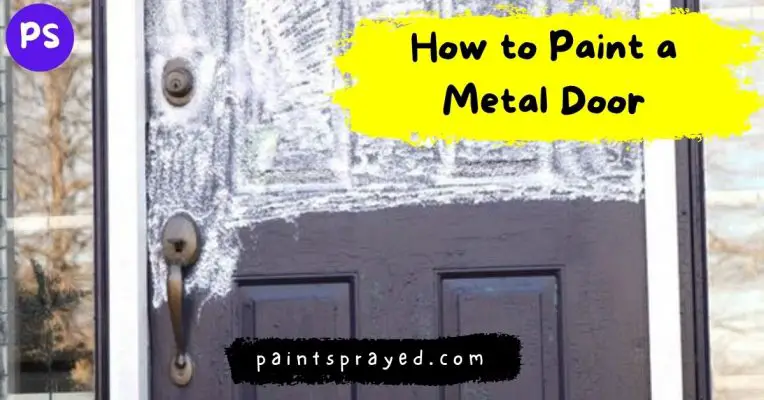 Every homeowner has to, at some point, paint their home. Most homeowners, however, take a traditional approach to painting, using a brush and a can of paint. If you own a steel door, however, applying the paint can be a bit more of a difficult task.
Tool you need to paint metal door
Painters tape for protection of those parts which you don't want to paint
Degreaser for removing oil stains from door
Paint stripper for removing of old paint
Sandpaper or sanders for getting smooth finish for primer adherence
Primer (Multi-surface suggested by me)
Paint (Preferably Acrylic Satin) and also semi-gloss paint
Paint brush or sprayer
Remove the door
To achieve the best results, when stripping paint from a door ensure you remove the door from its frame. This step is not required, but it will make it easier to achieve a better finish.
Next, remove all hardware from your door including your letterbox, handles for opening and closing, hinges (if the door has been removed from the frame), knockers and anything else associated with the door that doesn't need painting for an upcoming renovation or refurb that you have in mind.
Simply untape them and move them out of the way. Taping over areas where you don't want paint seems to be much more efficient than trying to paint around them by awkwardly tilting the can or brushing across their surface instead; this will only slow down your process in achieving the best possible outcome while keeping any remaining areas unpainted – which means you can now go back to doing all of those other things on your To Do list!
Clean the door with degreaser
Before beginning to paint your door, you should ensure the surface is clean before applying the paint. Give it a thorough clean with a degreaser and a rag to remove any dirt, oil, grease, or grime from the surface. Once you have cleaned the door, wipe it down with a dry cloth and leave it for an hour or two before moving onto the next step.
Remove old paint before painting metal door
Stripping paint off a door can be unpredictably dangerous! The most important thing to remember when doing this step is to take your time. It's not great if you have to go the medical center with paint stripper chemical burns, or if you end up getting some of the hazardous chemical in your eyes. There are many ways that something unpredictable like this could happen. See the tips paint metal surface.
So, during this step we really recommend wearing protection such as goggles and long sleeves, remembering that you should always wear protection when working with tools. We want you to finish this job unscathed and having done a good job too.
Sand the metal door
Once you get rid of any old paint (or if your door is already bare), the next step is to sand it in order to prep it for painting. This means once you have donned on your safety glasses, dust mask, and gloves, give the do a light, feathering sand with 400-grit sandpaper/sander to create a flat surface so that paint can adhere better. After wiping it clean with a damp rag, let the surfaces dry.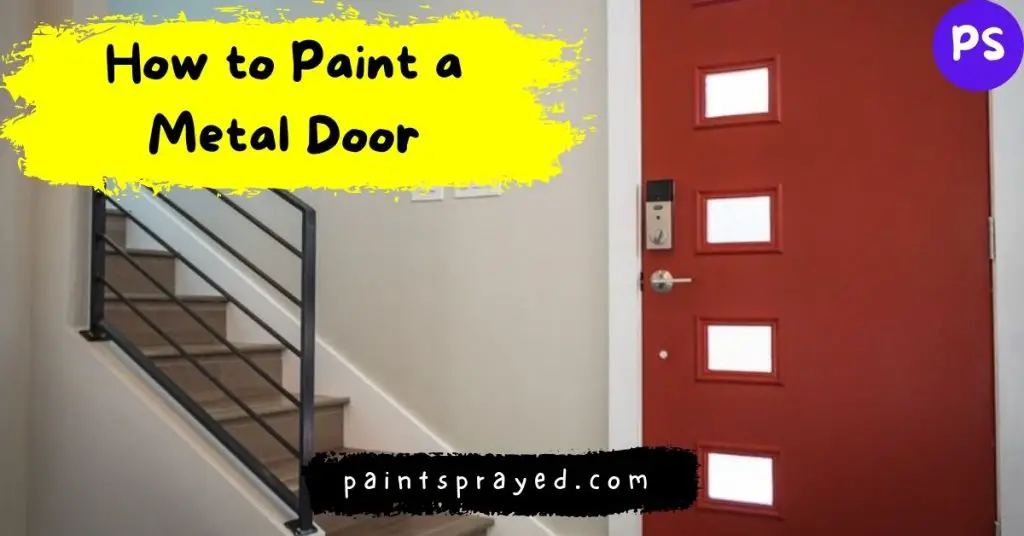 Prime the door
When it comes to making your front door last a long time and make it look great, the right primer can significantly help. In this article we're going to review our choice of high-quality multi-surface primer which gives paints an excellent foundation. For the best results, we recommend coating using a paint roller for the main sections but using an angled sash brush for corners and panels.
Once you've applied both coats of your chosen primer most manufacturers recommend that you allow up to 2 – 3 hours drying time before starting your paint work.
Start painting metal door
Using your paintbrush, roller or sprayer paint up the flat areas of the door with one coat of exterior paint, and then use your angled sash brush on any paneled areas or corners. To make sure you have a consistent finish, it's best to apply a minimum of two coats. The manufacture suggests you wait for each coat to dry completely before adding another.
If you are painting both sides of your door, make sure to only paint one side at a time, because it will be damaged if it comes into contact with another surface too quickly. The first thing to know about choosing the right paints for your door is that you're going to need at least two different colors. The first coat you paint should cover all areas of the door.
After letting this coat dry for at least 12 hours, you can then apply at least two more coats for a consistent finish and better protection against water damage. Every time before applying another coat, make sure that the previous one is completely dry; check the instructions from the manufacturer on how many coats and how long one has to wait between each one so as not to cause any issues down the road.
Attach the door
When the paint has dried completely, remove any tape and reattach hardware to your door. If you removed the door before painting then rehand the door back carefully.
FAQ's
Final thoughts
We hope you enjoyed our article on how to paint a door. With this knowledge, we know that you can make the most of your home and make it look great with a fresh coat of paint on your front door. So, what are you waiting for? Start painting your door today with the help of this guide and achieve the desired results out of your work.