When spray painting in cold weather, you need to adjust your technique to get a fine finish.
Drastic temperature changes can make the paint dry slowly, and the paint can clog up the nozzle, or worse, freeze and shatter the tip! But there are ways to use spray paint for the most part of the year, not just the summer.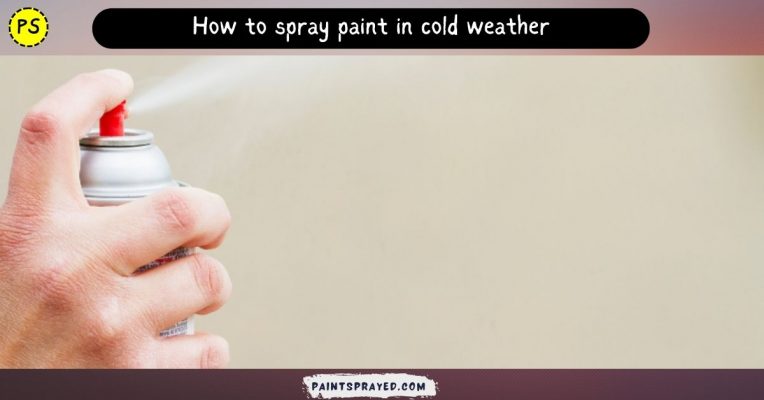 In this guide, I will teach you and will share the tips to spray paint in cold weather without making a mistake. I will share those tips which I personally use and acquired from professional painters.
How to spray paint in cold weather?
Here are the tips which I use and I will share them with you so you guys can achieve the finish which you desire of and want without making any mess on the surface. If you are a newbie and want to spray paint in cold weather then this guide is must read for you.
Problems in spray painting in cold weather
First, you should use some spray paint in cold weather is not very good, because the viscosity of the paint cannot be adjusted spray paint in cold weather while the paint drying time is also very long.
Second, in cold weather many solvents congealed. This is only the appearance of the paint color; the paint film is not easy to wipe the surface is not easy to dry.
Water spots can occur in latex paint and the color uniformity can be unfortunate also the base coat can look dark that touch-up coat.
The paint coverage in cold weather is reduced because of the excessive building of the paint layer. Avoid oil-based paint whenever the temperature is below 40 degrees.
In cold weather bumps and bubbles will appear in your spray paint because the paint layer is getting thick. Spray guns clog up easily in cold weather so if you want to paint with a spray gun then look for a robust one that can handle cold weather also.
It is seen that drips and runs are common on the painted surface in cold weather because of the thick layers of paint.
Tips for spray painting in cold weather
So, if you are planning to paint your home this winter, then follow these tips to paint efficiently in the cold weather. The keys to spray paint in the cold weather are insulation and proper equipment.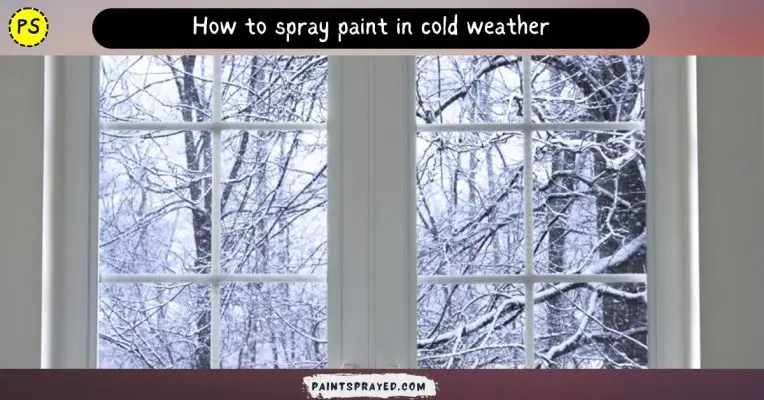 In cold weather, the paint will not dry as quickly, so you need to make sure that your spray gun is completely insulated from the cold.
Focus on maintaining an even temperature. Spray guns can stall or clog from the cold, so use air-assisted or semi-automatic guns if possible. Buy those spray paint that is graded for use in cold weather.
Also, make sure your spray gun is equipped with a heated tip. This can keep your gun running smoothly in the cold weather.
Follow the instructions mentioned in manuals for the rough weather like the cold ones so must check the manuals before starting to spray paint in cold weather.
As I have mentioned earlier that paint can be seen in drips and runs so in order to avoid this problem let the object's surface dry completely and also cover the surface if it's raining or snowing.
Also test the spray paint as I always mention in my blog posts you must check the spray paint on some cardboard surface or some paper even if you have checked it before but check the spray can right before starting on the project even if you are a professional or newbie. You don't what the environment could have done with nozzle of spray gun or spray can.
If you can increase the temperature if its possible for you then you must do this. And if you can paint when the temperature if warmer then it can also save you from those problems.
Also use a primer which bonding is good before applying paint or spray can paint.
Results of painting in cold weather
If a person paints in cold weather, it is likely that he may face some setbacks. Firstly, a person painting in cold weather would be more likely to be fatigued, causing him to make a lot of mistakes.
Secondly, the paint may be affected by temperature and may not apply correctly, causing the painting to not look well.
If you are applying paint to exterior wood surfaces, always use a topcoat. A topcoat will protect your paint from the elements.
You should also make sure the weather is ready for painting before you start. Ideally, the temperature should be between 50 and 80 degrees.
The humidity should be less than 60%, and the wind should be blowing less than 10 miles per hour. You should wait for about a month after a rainstorm before painting. You should also use paint with a low evaporation rate.
FAQ's
Verdict on how to spray paint in cold weather
I hope you are enjoying my blog post on the topic of how to spray paint in cold weather and I hope that you got good information to help you achieve amazing results.
If you have any questions or concerns or would like to leave a comment please leave it below in the comments section. I am always here to help you in any way that I can.