The interior of a football helmet is what a player uses to protect their head from any form of impact.
The outside, however, is what the player uses to make a statement, represent a team, and feel good before, during, and after a game.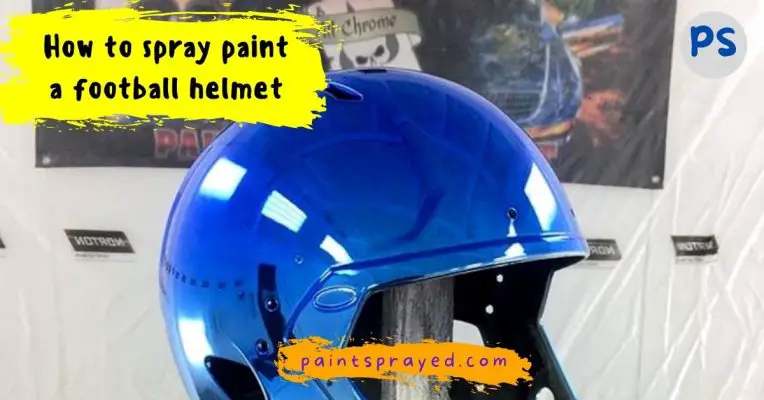 Whether you're looking to restore an old team helmet or make yourself a cool decorative item, it is important to know the method of paint to the football helmet.
Spray painting a football helmet is not a difficult process but there are certain things that you should keep in mind to avoid issues.
This guide will help you out in spray painting a football helmet with satisfactory results.
This guide will help you out in doing so the whole process without creating any mess on the surface of the helmet.
Newbies should follow each step explained in this post to get the best results for their helmets.
Tools you need to do the job
Scraper for removing old paint
Protective gear for body
Gloves
Face mask
Glasses
Spray paint cans
Masking tape or newspaper
Scraping the surface of helmet
Scraping is a job that cannot be avoided, especially in some painted jobs. This task is easy in scraped jobs but it is more time-consuming.
To do this task, you have to take some precautionary measures.
First of all, you have to cover the place which is around you with paper so that there will not be any paint or a splatter which spreads in the air.
Then you have to wear protective gear. After that, you put the helmet on a stand and move it around a bit so that you can understand the position in which you are going to put it.
After that, you have to put the scraper in your hand and make a curve at the top of the helmet. With this, you can easily scrape it.
It will take time in the beginning but you will get used to it and it will be more efficient.
Sand the surface
The first thing you do is to wash the helmet thoroughly, then rinse it with clean water to remove any soap residue and dirt.
Next, wet a clean cloth in an all-purpose cleaner, like Fantastik, and wipe the helmet down.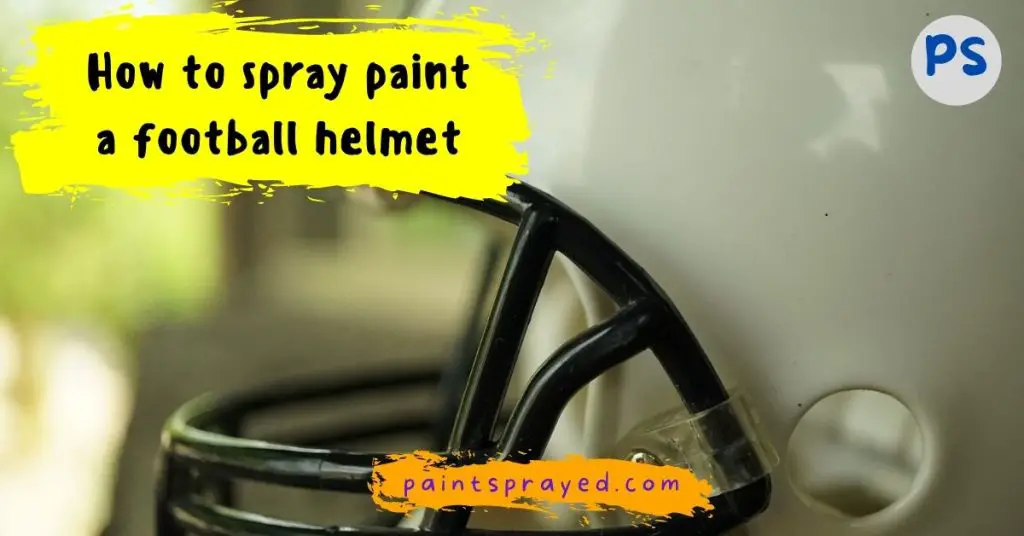 After that, you can use very fine sandpaper, like a 600-grit, to lightly sand the surface of the helmet.
This gives the helmet a rougher surface, so the paint will stay on it better. Before you paint the helmet, you should allow it to dry for at least two days.
You can speed up the drying process by setting the helmet in a well-ventilated, dry area for two days.
Apply masking tape inside and cover properly
First of all, the masking tape should be easy to stick to the helmet material. The masking tape should not leave any residue when you remove it.
To stick masking tape to the football helmet material, you need two pieces of masking tape sticky together.
First place one piece of masking tape on the football helmet. To make sure that the masking tape sticks, press it against the surface of the football helmet.
Press it with your hand for about 30 seconds. After the masking tape sticks, put another piece of tape on top of it.
Use a different color so that you can easily see where you have applied the tape. After you have applied the tape, spray paint the football helmet.
Start spray painting with spray cans
Finally, once the first layer has dried for about 15-30 minutes (depending on instructions given by your chosen brand).
One can put another coat on to level out any type of imperfection in the initial application from your first coat to avoid giving an uneven look overall when finished with a second application.
Use short bursts for both layers and wait overnight before re-attaching all accessories such as stickers or decals.
About three or four coats should do it. Let it dry for a couple of hours between each coat.
And for a professional finish, give the whole thing a clear coat to protect against fading and make the colors really pop.
FAQ's
Conclusion on How to spray paint a football helmet
This post was for especially those newbies who were scared that they will mess up the surface of the helmet but don't worry just follow each step explained in this guide and you will get fabulous results out of it.
If you have any confusion regarding this post then let me know in the comments section and I will clear it out soon.
In the end, you'll have a helmet that looks like it's straight out of the mold, whether you're using a football helmet or something else.
You can also paint your football helmet in your favorite team's colors or choose a custom color.
Once you have your finished helmet, you can wear it during your next game or show it off during an upcoming tailgate party.