Today I have came up with new solution to remove paint from a driveway or concrete surface in your house etc. This guide of mine will help the newbies to get spray paint off from a driveway. Just follow each step mentioned in this guide and you will save yourself from creating a mess.
Whenever I see a painting project go off the rails, or sometimes when my children decide to spray paint a section of the driveway or basement floor with spray paint, I tend to freak out.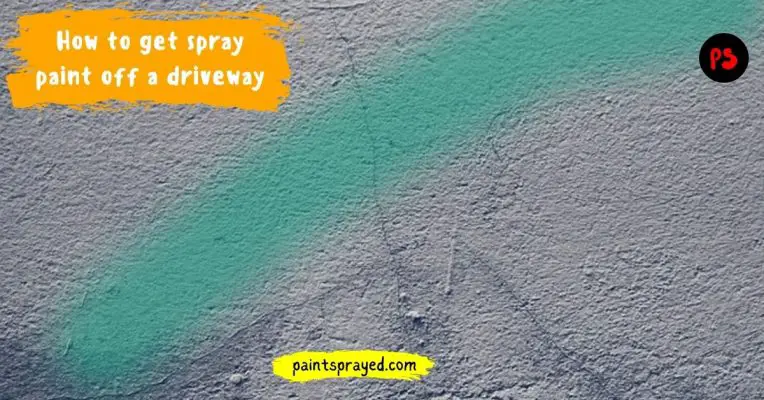 But that's because in my head all I can see is how badly it may be damaged and how much it will cost to repaint.
There are many options out there that are not only quite easy but cost effective and more importantly they don't totally destroy the area you want removed. In this article, I discuss different ways on removing spray paint from concrete.
The good news is that I've put together a step-by-step plan that will get you out of the funk and have you plotting again.
The basic steps aren't hard to understand, but they may take some time to implement. I will try to keep the guide simple as possible for you guys in order to understand it better.
Tools required to do the job
A bristle brush for scrubbing purpose
Dish soap
Rubber gloves
Safety goggles
Respirator
Soap and water solution for cleaning
Easiest and fastest solution in my opinion and safest also. If the area is small then this method is the best for you and its easy for the newbies to apply this method because it's the simplest.
It is best to use a hose to clean off the driveway. However, if your car is parked in the driveway, then a hose can't be used. Soap and water work well to remove spray paint out of the driveway. First, use soap and water to wash and remove any loose paint.
Then, use a putty knife to remove and scrape as much as you can. After you have scraped off as much as you can, use a pressure washer to get the rest of the paint off.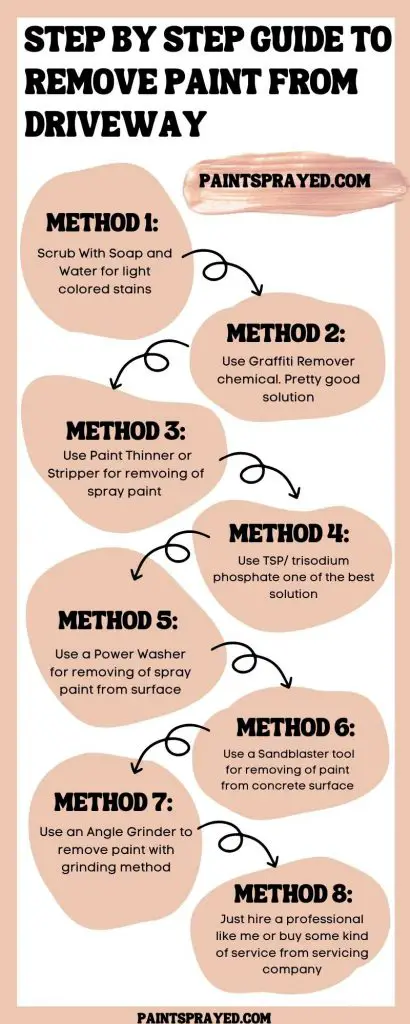 Removing paint with Graffiti
The first thing you should do is to identify the type of paint used. If the paint is latex, then you just have to scrub it off with some water and soap. Graffiti Remover Technique is an effective solution to get rid of all kinds of graffiti.
It's more than a graffiti remover, it is an anti-graffiti protection system. It is a water-based solution that has a unique effect when sprayed on surfaces. The graffiti will be removed very easily. Clean the surface with some strong detergent and then spray Graffiti Remover on the surface. Use a clean cloth to wipe off the paint.
If the paint is oil based, then you will need to use a stronger solvent, like paint thinner or kerosene. You can use a stiff scrubbing brush to remove the paint.
Paint thinner used to remove paint from driveway
To get paint spray off a driveway using paint thinner, you must first prepare the surface for the paint thinner to work. You need to scrape or sand off the paint. Make sure to use some kind of respirator to minimize the risks of inhaling the fumes of paint thinner. If the paint is dried, it should be scraped off.
If the paint is still wet, you can use paint thinner or paint stripper to get the paint off. Spray some paint thinner onto the paint, and you should be able to take it off using a scraper, brush, or whatever you can think of, as long as it is not a toxic paint.
Using Pressure Washer for removing paint
I've found one way to do it, but you may have to adapt it to fit your situation. I used the power washer my neighbor had offered to use to remove the front walkway that was done in concrete paint.
I started out using the highest pressure and temperature to do it, but found it wasn't working very well. Then I asked him to try using a low pressure setting and it worked like a charm. I'm hoping it will work for you too.
Sand blasting technique
Sand blasting method is commonly used to remove the paint and varnish off the metals and wood. There are different kinds of sand blasting, such as dry sand blasting. Dry sand blasting is faster than wet sand blasting, but it makes a mess of the surrounding.
Wet sand blasting is slower, but it's fine for sandblasting from a driveway. By using a sandblasting method, it is possible to remove the paint from the driveway. The driveway will be no longer slippery when the paint is removed.
Using TSP to remove paint
It is possible to remove spray paint from a concrete driveway using TSP. TSP is the active ingredient in commercial concrete and masonry cleaner. Concrete and masonry cleaners contain different types of detergents, buffers and surfactants that make them effective at removing oil, grease and paint.
You will need to prepare the driveway the way a contractor would if you plan to reseal the surface. You want to remove any oil, dirt and debris that is on top of the surface, as well as any loose or chipped pieces of concrete. Once the surface is clean, you can prepare the concrete by cleaning it with a masonry cleaner that contains TSP. Using a garden hose, spray the area to be cleaned.
Some concrete and masonry cleaners require a pressure washer to work effectively. After you have sprayed the cleaner over the surface, use a broom and broom to remove the leftover residue. Allow the driveway to dry for a few hours and then apply a new sealant.
Angle grinder method
You can get spray paint off from driveway with a good angle grinder. First, use an angle grinder to cut out the area of the driveway you can get behind. Try to cut it as close to the paint as possible -for example, if the paint is on the edge of the driveway, cut off the paint and the edge.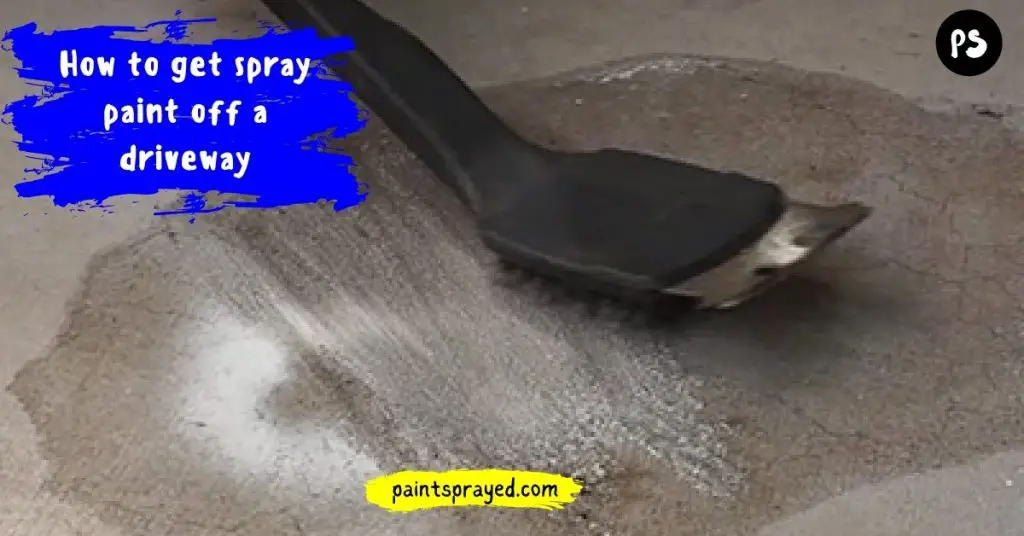 This will make it easier to get into the deeper areas. The next step is to use the angle-grinder to grind away the paint. It may take a while, and it may be hard to see whether or not you are getting somewhere, but grinding away should get rid of most of the paint.
The last step is to use a wire brush to grind away the rest of the paint. You can buy them at any hardware store. It is a little time consuming, but it will be easier than scraping or sanding.
Toilet bowl cleaner
I have used toilet bowl cleaner to remove spray paint from a driveway before. So here is how I did it. Take some toilet bowl cleaner and put it on the driveway.
Let it sit for a few minutes and then take a pressure washer and blast it off. It won't remove the paint at first, but after a couple of hours you will see the paint start to bubble up. The paint should come off completely if you let it sit for a few more hours.
Acetone solution
I can confidently say that one of the best ways to remove spray paint from a driveway is to use Acetone. Acetone is a solvent that dissolves other things easily. You can easily get it from the hardware store or online. You need to pour the solvent onto the driveway and rub it into the paint until the paint starts to dissolve.
Be careful because paint is flammable. Once you have finished applying the solvent, allow the solvent to evaporate which could take up to 3 days, depending on the weather.
If you want to speed up the process, you can either use a blow dryer or apply a heat lamp to the driveway. Always use a heat lamp no more than 1 foot away from the surface.
FAQ's
Conclusion
Here is the method to remove the paint from your driveway. Amateurs should follow each step described in this guide and should also try each method to get perfect results.
Let me know in the comments section if you find any issue I will help you out for sure. Professionals should also guide newbies in this field and should comment and guide if I missed something.