Many of us love our favourite denims but at times we get bored with the look of it and wish to give it a new look.
In today's world many ways and techniques are available by which you can give a new look to your favourite jeans just by following few steps.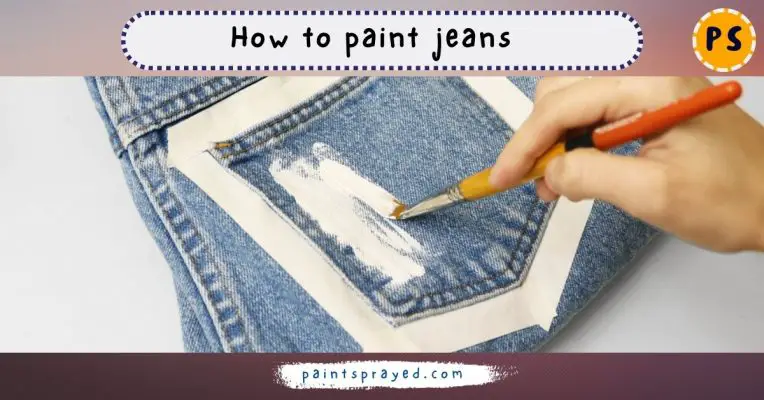 I will give you the whole process with step by step on how to paint your favourite jeans at home with basic tools and give new look to it.
How to paint jeans? Complete step by step process to paint jeans
Wear protective gear
You must wear glasses so you can save your eyes from irritating which can be caused by any type of paint if accidently dropped into your eyes. Wash your eyes if you have dropped paint in it.
Next step is to wear the gloves because it also causes itchiness and allergy to those fellows who have it from paint type materials.
Face mask is a must thing to wear before starting paint process on jeans. Some people have allergy and paint can harm the lungs if inhaled. Wear paint suite if you have it then don't miss it.
Prepare the area
Now comers to the next step where you prepare the area for paint process. Cover those areas or objects on which you don't want to drop paint on which can cause headache later when you will be figuring out the method to remove paint from chairs, tables, or households.
Open the doors and windows for better circulation of air which will make the painted surface dry faster and also air is very important for paint.
How to paint jeans with stencil?
There are many ways to paint jeans, but one of the most popular methods is to use a stencil. First, you will need to purchase a stencil that is the desired design for your jeans.
Next, you will need to lay out the stencil on the jeans and trace around it with a pen or pencil. Once the design is traced, you will need to paint over the traced lines with fabric paint.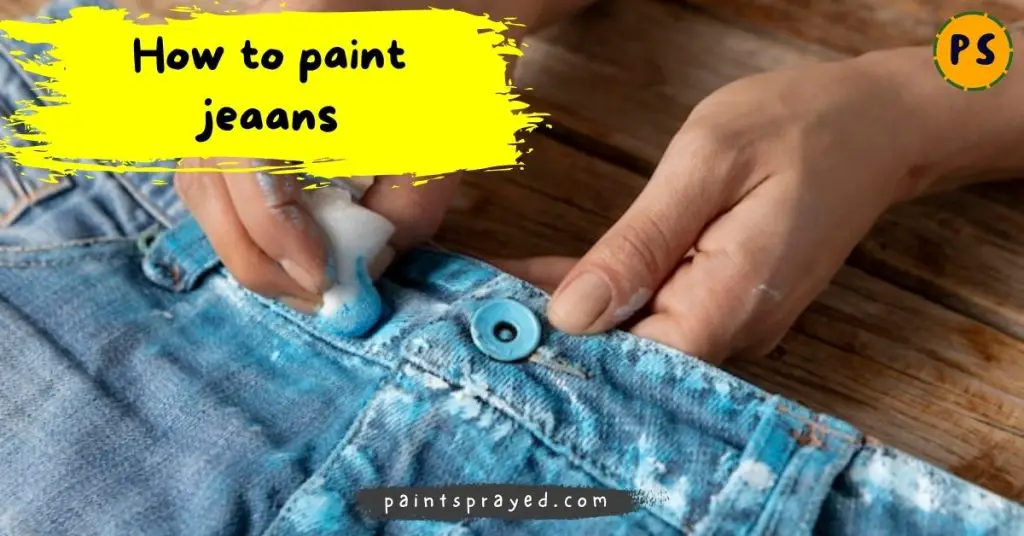 You can find fabric paint at most craft stores. Once the paint is dry, you will have a unique pair of jeans that is sure to get noticed!
How to paint jeans with spray cans?
The best way to paint jeans with a spray can is to first lay them out on a flat surface. Next, you will want to apply a base coat of paint to the jeans.
Once the base coat is dry, you can then begin spraying the paint on in even strokes. Be sure to keep the can moving so that the paint does not pool in one spot.
You may need to apply multiple coats of paint in order to achieve the desired look. Once you are satisfied with the results, you can then seal the paint with a clear topcoat.
How to paint jeans with paint sprayer?
There are a few things you need to know before you start painting your jeans with a paint sprayer. First, make sure you protect your skin and eyes by wearing gloves and goggles.
Next, lay your jeans out on a flat surface and tape off any areas you don't want to get paint on. Once you have your jeans prepped, you can start painting.
Hold the paint sprayer about 6 inches away from the jeans and use smooth, even strokes to apply the paint. Let the paint dry for a few hours before wearing your jeans.
FAQ's
Verdict on how to paint jeans
We hope you enjoyed the post, please feel free to leave your comments and give us your feedback about the post in the comment section below, we really appreciate your inputs and help. Thanks for reading, we hope you learned something today, see you in the next post.