Picking the right paint spray gun can be a daunting task. Do you go for the tried and true Graco X5? Or is the more advanced Graco X7 the right choice for you?
In this blog post, We will take a look at the features of both guns and help you decide which one is best for your needs. I have noted the pros and cons of these both paint sprayers.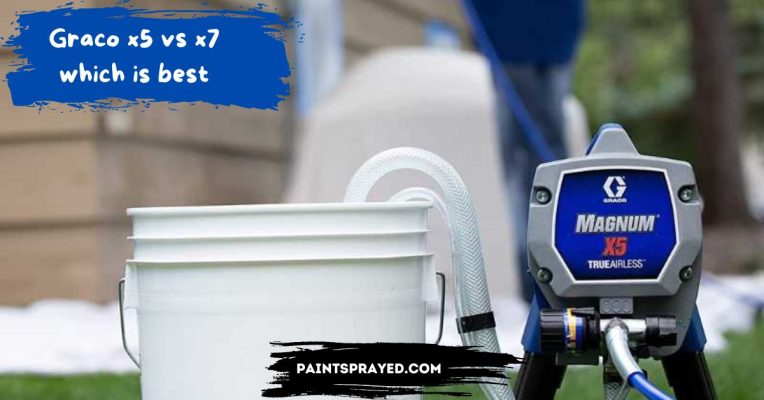 So, whether you are a professional painter or just looking to do some home repairs, read on to find out more about these two great guns.
Well, I have tested both of these products of Graco and noted down their upsides and downsides for you guys so that you can purchase according to your requirements effortlessly.
Graco x5 vs x7 review
The Graco X5 is the basic model of the paint spray gun. It is a simple, no-nonsense tool that gets the job done.
This gun is perfect for small projects or home repairs, and it is easy to use and maintain. The X5 has a durable metal body and comes with a one-year warranty.
Both have been tested in tough situations by me and Graco x5 vs Graco x7 both gave their best and satisfied me in my field of work.
In this post, I will present you the pros and cons and their profound analysis with my involvement and it will benefit you to choose which you like and which is best in 2023.
Top best spray paint for wood chairs in 2023
Graco x5 review
I found out that it is precise for smaller projects and tight corners
I easily handled it because of its compact and small size
Any job can be done with its huge 3000 PSI
Any newbie can set up the sprayer by watching the DVD which has instructions
Comes with a durable stainless-steel body giving it a robust look and also
From my experience its not made for a heavy-duty purpose and large projects
This product is a stand airless paint sprayer that has five different settings for the amount of pressure you want to apply.
It comes with a stainless-steel piston pump that allows you to spray untinned paint at high pressure.
The flexible suction tube allows you to spray directly from a 1 or 5-gallon paint bucket, and it can support up to 75 ft. of those giving you extra reach for your projects.
The annual use recommendation is up to 125 gallons per year, and it comes with a RAC IV Switch Tip so if the tip gets clogged, you can easily clear it.
They have mentioned the support of 75ft of paint hose which helped me a lot during work on garage painting and for some outdoor stuff like painting my fence.
The hose length is satisfactory long and you guys can paint easily while moving with this hose.
After completing the fence, I tried to clean the sprayer and connected it with a garden hose just outside on my lawn.
It connected easily to the paint residue inside the sprayer and leftover stuff just cleaned up in no time and it got me surprised.
Graco x7 review
Unlike x5 it can cover large areas
High pressure can handle unthinned paint
The reverse paint feature helps a lot with clogging issue
Also comes with an instructional DVD
Might be an expensive option for you
The Graco Magnum X7 is the ultimate, professional-grade sprayer designed for custom painters and professional contractors.
This paint sprayer features a stainless-steel piston pump that allows you to spray paint unthinned at high pressure, giving you total control over your projects.
The Flexible Suction Tube allows you to spray directly from a 1 or 5-gallon paint bucket.
The Annual Use Recommendation is up to 125 gallons per year and includes an airless pump with Power Flush Adapter which connects to a garden hose for fast and easy cleaning.
Can support up to a 1.4 tip size and 20 feet of hose.
I painted my fence which is opposite from the first one which i painted with Graco x5. And It was just a one-go situation.
I painted nearly 4 to 5-gallon paint from this spray gun and was satisfied by its quantity.
The company has recommended the use of 125 gallons per year and I think it's true because the robust stainless-steel body can hold many gallons annually.
I didn't have to use thinner to make the unthinned paint thinned so that I can work on the surface which I want to paint.
You guys can also save time and money because of its painting capability of unthinned paint with high pressure.
You can adjust the pressure of this sprayer and reverse the tip when clogged.
So that you guys cannot be irritated by the clogging issue which you might have faced on other paint sprayers.
The power difference between Graco x5 and graco x7
The Graco x7 is more powerful than the Graco x5 – they both hold similar amounts of paint, but the x7 pushes more air, so it's recommended for painting.
Why does the paint dry faster in some rooms than in others? Walls, floors, and ceilings can retain heat longer than any other part of a room.
By contrasting warm surfaces with cooler ones (say, by putting your walls on an unheated concrete slab or laying down tile), you can help create that natural cooling effect.
Precision difference graco x5 and graco x7
The Graco x5 is more precise because it has a narrower front so you can reach between objects easier. It also has a larger total paintable surface area.
The Graco X5 stands 47″high and offers a wider coverage width of 28″.
Whereas the Graco X7 stands 49″ high and provides 20% less coverage width due to the slightly narrowed front end of 25″.
The difference in height does not provide any advantage concerning precision, as both machines offer top-end quality levels.
Usability of Graco x5 and x7
The Graco x5 and 7 are both easy to use, but the major difference between them is that one has an easily removable paint nozzle while another features a reverse spill feature.
So both were pretty usable for me.
Durability of graco x5 and graco x7:
The X5 is fully padded, but the X7 has no padding anywhere. The X7's cloth seat does not come with any water-resistance treatments, either.
The back of the seat DOES have 10 safety harness positions and baby-designed shoulder pads that can be adjusted up or down for a comfortable fit. 
The X7 does not recline very far back, but the X5 reclines almost all the way.
The X7 is considerably lighter than the X5 and folds up much smaller for storage or transport. It also has a nicely designed sunshade that provides good coverage.
The downside to the X7 is that there is no storage pocket on the back of the seat, and the canopy is not adjustable.
So, in my opinion, it all comes down that which liabilities you want and are important for you and which are not that define the durability factor between these two.
The size difference of x5 vs x7
The Graco X7 has two choices of shoulder height, one for taller parents and one for those who prefer to push with their elbows.
It is overall a much roomier infant car seat as well as a parent organizer (especially useful when you don't want your child insight for safety reasons.
But still, need to complete other tasks like buckling yourself)
The Graco X5 also has a two-position recline, either an upright position or a more slouching position which might be more appealing for smaller infants.
Or those that have a hard time keeping their heads upright.
The Graco X5 does not offer the infinite headrest feature that the X7 features though so it really depends on what you are looking for.
Similarities Between the Graco x5 & Graco x7 Paint Sprayer
Durability:
The Graco x5 and 7 paint sprayers are built using very durable materials which include metal, both have highly impact-resistant Long-lasting nozzles.
Both use the same type of spray nozzle that delivers amazing performance under all conditions with accuracy; this is due to its RAC IV 515 tip design
The dimensions in terms of space they can accommodate at any given time are also alike, they can accommodate 5 to 9 gallons of paint.
However, in each case, the Graco X5 stands out in terms of size in that it has better space utilization in comparison with the Graco 7.
Quantity capacity/storage capability:
The Graco x5 and 7 paint sprayers are both capable of spraying up to 125 gallons per anum.
They can cover all your desired painting projects with ease, and accuracy while using these devices.
Pressure:
Both Graco x5 and 7 paint sprayers have a maximum spraying pressure of about 3000 psi, which is more than enough to handle the largest projects without any problems.
One of the most important factors when deciding which paint sprayer is best for you, whether professional or DIY project-based use, should be how easy it will actually function.
For example, if your job requires working outdoors with limited access to electricity then certain battery-powered models might not cut it while others can last up to three days on one charge without running out.
Weightage:
It's also worth noting that some people prefer lighter-weight equipment so they don't get tired as quickly during long painting sessions.
But others might prefer a heavier machine for less vibration and more stability.
Graco's X5 model is a little bit heavier than the Graco 7 but still falls in the "light-weight" category compared to other brands.
What is the difference between Graco Magnum x5 and X7?
Graco Magnum X5 and X7 are both popular models of airless paint sprayers produced by Graco. However, there are some key differences between the two models that set them apart.
The Graco Magnum X5 is a more basic model, designed for small to medium-sized painting projects around the home or workshop.
It is lightweight and easy to maneuver, making it a good choice for DIYers or those who are new to using airless paint sprayers.
The X5 also comes with a built-in cart, making it easy to transport and store.
On the other hand, the Graco Magnum X7 is a more advanced model, designed for larger painting projects.
It is a bit heavier and more powerful than the X5, making it a good choice for professional painters or those who have more experience using airless paint sprayers.
The X7 also has a larger spray tip and a higher maximum spray pressure, which allows it to handle thicker materials and cover larger areas more quickly.
Additionally, the X7 has a more durable build quality and comes with a number of features that make it more versatile, such as a flexible suction tube and a spray gun with a reversible tip.
In terms of cleaning, the Graco Magnum X5, and X7 both come with a PowerFlush adapter that makes cleaning the sprayer easier and faster.
However, the X7 also comes with a RAC IV SwitchTip, which makes it easy to change out spray tips quickly and easily.
Another main difference between the Graco Magnum X5 and X7 is the price. The X5 is generally more affordable than the X7, making it a more accessible option for many consumers.
In summary, both the Graco Magnum X5 and X7 are high-quality airless paint sprayers, but they are designed for different types of projects and different levels of experience.
The X5 is a good choice for small to medium-sized projects and for DIYers, while the X7 is a better choice for larger projects and for professional painters.
Both the X5 and X7 have similar cleaning features but the X7 comes with additional features such as the RAC IV SwitchTip and a higher maximum spray pressure.
The X5 is more affordable than the X7.
How do I choose a Graco sprayer?
Choosing the right Graco sprayer depends on several factors such as the type of paint or coating you will be using, and the size of the project.
And your own personal level of experience with using paint sprayers. Here are some things to consider when choosing a Graco sprayer:
Type of paint or coating: Graco offers a wide range of sprayers that are designed for different types of materials, such as latex, stains, and heavy-duty coatings. Make sure to choose a sprayer that is compatible with the type of paint or coating you will be using.
Size of the project: Graco offers a variety of sprayers for different size projects, from small touch-up jobs to large commercial projects. Choose a sprayer that is appropriate for the size of your project.
Experience level: Graco offers both basic and advanced sprayers. If you are new to using paint sprayers, it may be a good idea to start with a basic model such as the Graco Magnum X5. If you are an experienced painter or have a large project, you may want to consider an advanced model such as the Graco Magnum X7.
Power source: Graco sprayers come in both electric and gas-powered models. Electric models are more convenient to use and are typically less expensive, but they may not be as powerful as gas-powered models. Gas-powered models are more powerful, but they require more maintenance and are typically more expensive.
Additional features: Graco sprayers come with a variety of features such as built-in carts, adjustable pressure, and reversible spray tips. Consider which features are most important to you and your project, and choose a sprayer that has the features you need.
Price: Graco sprayers range in price, from the more affordable models such as the Graco Magnum X5 to the more expensive models such as the Graco Magnum X7. Be sure to set a budget and choose a sprayer that fits within your budget and will meet your needs.
In summary, when choosing a Graco sprayer, consider the type of paint or coating you will be using, and the size of the project.
Your own level of experience, the power source, additional features, and the price.
What is the easiest paint sprayer to use?
The Graco X5 and X7 are both airless paint sprayers that are designed for DIY projects and small-to-medium-sized jobs.
Both models have similar features such as a powerful motor, adjustable pressure, and spray pattern, and a large paint cup.
However, the Graco X7 is considered to be a step up from the X5 in terms of performance and versatility.
The Graco X7 has a larger spray tip and can handle thicker materials, making it more suitable for larger projects.
It also has more advanced features such as a PowerFlush adapter, which makes it easier to clean and maintain.
In terms of ease of use, both the Graco X5 and X7 are relatively easy to operate, but the Graco X7 is considered to be more versatile and powerful.
It might be more suitable for more experienced users or professional use while the X5 is a more budget-friendly option for home DIY projects.
FAQ's of Graco x5 vs x7
My Final Verdict on Graco x5 vs x7
Well according to my experience, both have their upsides and downsides and I have shown you both sides. I have also explained the similarities they both have in themselves.
So, I wouldn't choose any one of them on the bases of durability or on weightage or pressure figures but I would rather pick according to my need.
For instance, if I like small carrier paint sprayers then I would go for Graco x5 which will give me less pressure
And have less storage which eventually tells us that it is made for smaller projects like painting chairs, tables, walls, or fences not for whole-house painting purposes.
And if I need a high-pressure sprayer then I would definitely go for the Graco x7 model which has great power in its case.
Also, this can be used with unthinned paint too because of the high-pressure feature.
And to avoid clogging it has the reverse paint feature which personally helped me a lot during the various projects that I did with this model of Graco.
The decision is up to you guys which machine will suit you according to your needs.
I have explained each side of the sprayer from a design perspective and cosmetics look to the weight of these machines.
I have mentioned everything according to my experience. And I am sure the decision for you will be pretty simple after this post of mine I hope will help you guys a lot.
Happy painting lads!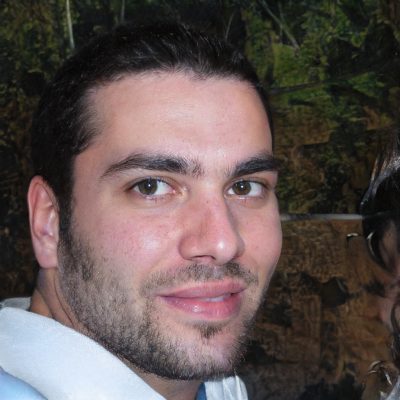 Matthew Edward is a professional painter who loves to paint and wants to share useful tips and tricks which he had learned in many years of experience in painting. He also used many products that can be used for painting he has tried and tested each and every product to give an unbias opinion about it in his review. This blog is very useful for those newbies who want to learn painting without making mistakes.