Today I am going to share my experience with the Graco x19 model. I have tested it on smaller projects and on bigger projects too.
And tested out its features which the company Graco claims about this specific paint sprayer. I have tested it all from all angles and from all perspectives.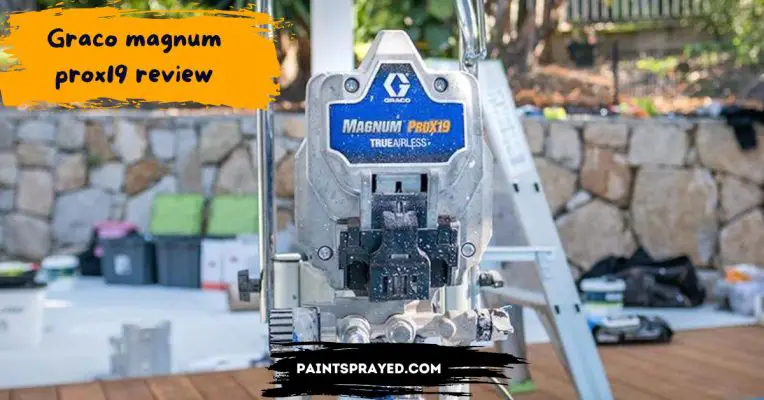 I have noted down its pros and cons also which I found during work on my projects.
Graco magnum prox19
I will also share the upsides and downsides of the paint sprayer so that you people out there can decide what to buy and what not to.
This Graco Magnum ProX19 review will help you all I hope. It is an ideal choice for those who want the convenience of a sprayer that will get the job done.
Featuring an InstaClean pump filter that helps reduce clogs from paint debris. The X19 sprayer is a great choice for both interior and exterior applications including decks, fences, and trees.
Graco magnum prox19

Robust paint sprayer
Carts help in portability
It has a 3000 PSI pressure
The long hose helped me a lot
Newbies can adjust to the pressure easily

Cart tire tread quality is not good

The X19 easily adjusts pressure for optimal performance and control, especially when spraying at higher pressures.

The sprayer is also fully adjustable for paint flow for any project size. The RAC IV SwitchTip reverses the tip when clogged to keep you spraying.

The X19 is the ideal choice for small to medium-sized jobs.

Mounted cart

This handy sprayer is mounted on a cart which reduces the need for back strain. Furthermore, you can move the Graco X19 from one location to another with ease.

That said, it's also a heavy piece of machinery and if you wanted to store it somewhere smaller, you could opt for the much shorter stand (sold separately).

The accessories are easy to load onto the base – be sure you have all your accessories before loading them into your tank.

Comes with SG3 Gun

For those easy-to-clean, durable, and easily maneuverable paint sprayers X19 offers the SG3 Spray Gun. This spray gun is certainly a step up from its predecessor.

The gun provides more power to get difficult jobs done fast.

It's also created for elongated use; the four-finger pull trigger requires 30 percent less effort to squeeze than its competitors reducing fatigue on those mammoth projects.

Furthermore, the ABS trigger guard will protect the delicate filter from accidental damage and not clog over time thanks to the in-handle filter.

No need of priming the surface

No Priming Required — Dramatically reduce your time spent priming before spraying your next project with our revolutionary PushPrime feature.

When you're an expert painter, you know that one thing's important – having a great workspace environment.

Even if that just means working in your own home or office space, we know how difficult it can be to cope with all of the tools and machinery that go along with airless spray paint systems.

Especially when it comes time to do prep work like making sure every detail of your system is primed and ready.

That's why the X19 has been made with PushPrime technology. With this unique tool, nothing can distract you from getting your project started right away without fuss!

Spraying flexibility

Now, let's talk about what makes the X19 ideal for both indoor and outdoor use…

This powerful sprayer comes equipped with a variable width 1.2mm to 3.0mm fan nozzle allowing you to fine-tune 0.875 horsepower of power.

Which equates to an impressive 25-30 PSI maximum operating pressure! When it comes to versatility then you can't find a better sprayer than the Graco X19 (even if it does say "Chilton").

This sprayer can be used for all kinds of paints, stains, sealers, enamels, and even chalk (providing your paint is water-based) — often with no thinning whatsoever.

Other companies might claim painters are compatible with all the above mediums but sadly, this quality doesn't come across in their actual designs.

It should also be mentioned that up until size 0.019 inches you can interchange the tip just about whenever you want.

It has adjustable controls

The X19's adjustable flow control lets you easily change the power output from low to wild and everywhere in between, depending on what kind of surface you're trying to paint.

Adjusting the intensity down a bit allows it to work better on light-colored surfaces. This is basically just turning it down a little bit so you don't cover everything in sight with gallons of paint.

What is the best Graco spray gun?

It is difficult to determine the "best" Graco spray gun as it can depend on the specific project or task for which it will be used.

However, Graco's TrueCoat Pro II cordless airless paint sprayer is a popular choice among professionals and DIYers for its versatility and ease of use.

Another highly rated option is the Graco Magnum X5 airless paint sprayer, which is known for its durability and ability to handle heavy-duty projects.

Ultimately, the best Graco spray gun for you will depend on your specific needs and budget.

Is Graco paint sprayer a good brand?

Graco is a well-established and reputable brand in the paint sprayer industry.

They have been in business for over 80 years and have a wide range of paint sprayers that cater to both professional and DIY users.

Graco paint sprayers are known for their durability, reliability, and versatility.

They offer a variety of models with different features and capabilities to suit different painting needs and budgets.

They also have good customer service, which can be helpful if you have any issues with your sprayer.

Overall, Graco is considered to be a good brand of paint sprayers and is a popular choice among painters, contractors, and homeowners.

How do you use a magnum prox19 sprayer?

Using a Graco Magnum ProX19 airless paint sprayer is relatively straightforward, but there are a few steps you'll need to follow to ensure that you get the best results.

Prepare the paint: The paint should be at the correct viscosity for your sprayer and should be thoroughly mixed. Use a paint strainer to remove any particles that may clog the spray tip.
Assemble the sprayer: Attach the spray tip, hose, and gun to the sprayer. Follow the instructions in the manual for proper assembly.
Prime the sprayer: Turn on the sprayer and hold the gun in a bucket or tray while pulling the trigger to prime the pump and hose. This will remove any air from the system.
Adjust the pressure: Adjust the pressure to match the paint and the surface you're spraying. A higher pressure will produce a finer mist, while a lower pressure will produce a heavier coat.
Test the spray pattern: Test the spray pattern on a piece of cardboard or scrap wood before you begin painting to ensure that you have the desired pattern and that the paint is coming out evenly.
Start painting: Hold the sprayer 8-12 inches away from the surface and overlap each pass slightly to ensure even coverage. Move the sprayer in a side-to-side motion and keep the gun perpendicular to the surface.
Clean the sprayer: After you've finished painting, be sure to clean the sprayer thoroughly to prevent clogs and prolong the life of the sprayer. Follow the instructions in the manual for proper cleaning.

It is always a good idea to consult the manual before using your Graco Magnum ProX19 airless paint sprayer, as the instructions may vary slightly depending on the specific model.

Can you get a good finish with an airless paint sprayer?

An airless paint sprayer can produce a good finish, but it depends on the type of surface being painted and the skill level of the operator.

Airless paint sprayers work by breaking the paint down into small droplets and propelling them through a spray tip onto the surface.

This allows for a fast application of paint and can result in a smooth, even finish. However, because the paint is atomized into droplets, the surface may have a slightly textured finish.

To achieve a smooth finish with an airless paint sprayer, it is important to use the correct spray tip and adjust the pressure appropriately.

A smaller spray tip will produce a finer mist and a smoother finish, while a larger spray tip will produce a coarser mist and a more textured finish.

It's also important to keep the sprayer moving at a consistent speed and distance from the surface and overlap the passes slightly to ensure even coverage.

Additionally, a good paint preparation, like sanding the surface and priming it, can also make a big difference in the

FAQ's of Graco magnum prox19 review

Will the Graco X19 Magnum Work with Sand Paint?

It depends on how thick the paint is. The sand paint should be thinned down a bit before using the Graco X19 Magnum.

Otherwise, if the paint is too thick, you won't be able to use your sprayer.

The Graco X19 Magnum has a feature called the "Lil'Guys" which indicates whether the sprayer will be able to spray the paint.

If you gently press the trigger, and if nothing comes out, then you should thin the paint, otherwise, you may have to change the filter.

How do you clean a Graco prox19?

After a day's work, it is good practice to clean your Graco ProX19. This will keep your tool in good condition and also keep it in good working order.

Remember a dirty sprayer will give you a poor finish and leave you with a lot of cleaning to do. Follow these steps to clean your Graco ProX19.

Remove the Graco ProX19 from the sprayer.
Ensure the sprayer is turned off.
Remove the air filter cover.
Take out the filter and clean both the filter and the filter cover with a clean cloth.
Insert new filter and cover.
Fill a suitable container with water.
Insert the Graco ProX19 into the water-filled container and let it sit for a few minutes.
Take the Graco ProX19 out of the container and clean it again with a clean cloth.
Place the Graco ProX19 back in the container and run the sprayer until water starts flowing out of it, and then drain the container.
Place the Graco ProX19 back on the sprayer again and start using the sprayer.

Can I use this sprayer for interior painting?

Yes, absolutely! I used this sprayer for interior painting. I have a basement with a drop ceiling and I used this sprayer for that.

I just had to make a very small hole in the ceiling to fit the sprayer head through. The sprayer will spray just fine if the ceiling is only two or three feet high.

I actually found it easier to paint my basement ceiling with a sprayer than with a brush. This is a very good sprayer, and I highly recommend it for interior painting.

What Are the Uses for the Pro X19 Graco?

The Graco X19 Pro is a great paint sprayer for finishing jobs. If you will be using the gun in the comfort of your home, it will be worth it to consider the X5, Pro X7, Pro X9, or the Pro.

They all have great features for the home but don't have the power and durability to be used in a professional setting.

The Pro X19 is a great gun for the person who will be using it frequently at home but won't be using it on a daily basis at work.

The sprayer has silicone hoses for a smooth spray, which is exactly what is necessary for any household project.

The hose is also clear, so it will be easier to see the fluid level in the tank. The gun also has a flexible nozzle that makes it easier to handle without losing pressure.

Can I Use the Graco Magnum X19 for Painting Cars?

First of all, you can paint indoors with this product.

This is because the product has a cleaning feature which means that you can clean the sprayer before you start painting if you are painting indoors.

You just need to clean the parts of the sprayer and then it is ready to be used. You can paint both indoors and outdoors with the help of this product.

This is because the product has a spray handle that is attached to the paint sprayer.

If you want to paint outdoors, then you need to detach the spray handle and use the handle which is provided to you.

The handle is bigger than the spray handle and you will be able to paint outdoors without difficulty. You can paint cars with this product easily.

What's the Difference Between the Graco Magnum ProX9 Airless Paint Sprayer and the Graco X19?

We can put it simply: the X19 Magnum Airless Paint Sprayer is the newest model, but the ProX9 is the classic model, that has been the best seller for years.

The FLEX technology is something Graco is really proud of and they guarantee the performance of their sprayers with the FLEX technology.

And with this technology, Graco has managed to make an airless paint sprayer that is much quieter when compared with the X19 Magnum Airless Paint Sprayer.

More affordable when compared with the X19 Magnum Airless Paint Sprayer, and more reliable when compared with the X19 Magnum Airless Paint Sprayer.

Conclusion on Graco magnum prox19 review

So here is my whole experience of mine with this paint sprayer from Graco company in this post. Hope you enjoyed the review and got some knowledge about this paint sprayer.

I honestly noted down the upsides and the downsides of this paint sprayer so that new guys don't get fooled or disheartened after purchasing this paint sprayer.

The Graco X19 is a sprayer that is ideal for large and time-heavy spraying projects.

Its swiveling SG3 gun promises lightweight yet durable use without hose kinking.

And, featuring a 515 tip, it's as happy knocking out stains and sealers as it is with enamels and latex paints.

Matthew Edward is a professional painter who loves to paint and wants to share useful tips and tricks which he had learned in many years of experience in painting. He also used many products that can be used for painting he has tried and tested each and every product to give an unbias opinion about it in his review. This blog is very useful for those newbies who want to learn painting without making mistakes.