Today I will guide the newbies about the difference between an airless paint sprayer vs pressure pot and also will discuss the similarities.
Do not miss any point if you are a beginner and are confused between these two types of equipment for yourself or your client.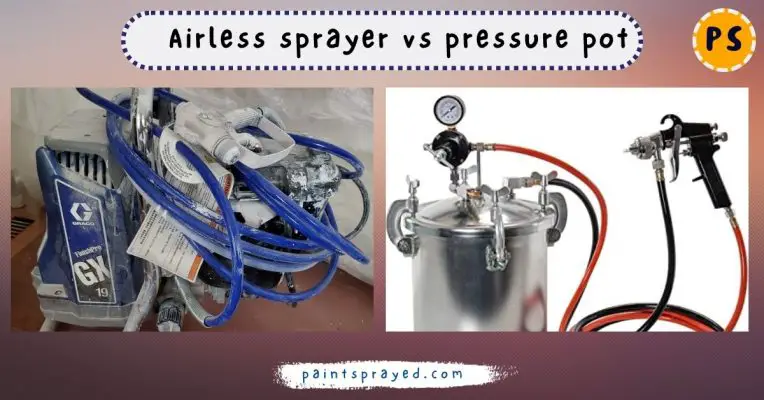 Let us start with the differences and similarities between airless paint sprayers and pressure pots. I will explain from my own experience and from the years I have spent in my painting career.
Airless paint sprayer vs pressure pot
Well, the difference between them is simple. The pressure pot is the most common type of paint sprayer; it is a paint can with a pressure pot attached to it. You would use it just like a spray can and paint.
You would pump or compress air into the pressure pot, which would raise the pressure, release the pressure that would allow the paint to come out, and repump more air into the pressure pot. Moreover, that is how it works.
An airless paint sprayer is more advance. They do not use air compression to push the paint through the hose and use the paint's pressure.
They use a pump to push the paint into the paint gun, then the paint passes through a filter, and then the paint is pushed through the hose. That is how it works.
Pros of Airless paint sprayer
Airless paint sprayers have several advantages over sprayers that use compressed air for spraying paint. The first advantage is that you don't have to wait on a compressor to produce enough pressure. This means that you can be more productive, which means working faster.
They're also more suited to large jobs, which means better for commercial use. They're excellent at projecting paint, making them ideal for painting ceilings.
They're also more reliable than compressors, making them a better choice for you in the long term.
Cons of Airless paint sprayer
To have a high-quality paint job, you will have to use a high-quality airless paint sprayer. But these machines will cost you a pretty penny.
They are usually used by professionals only. When you hire their services, the price you pay for their equipment is no longer a factor.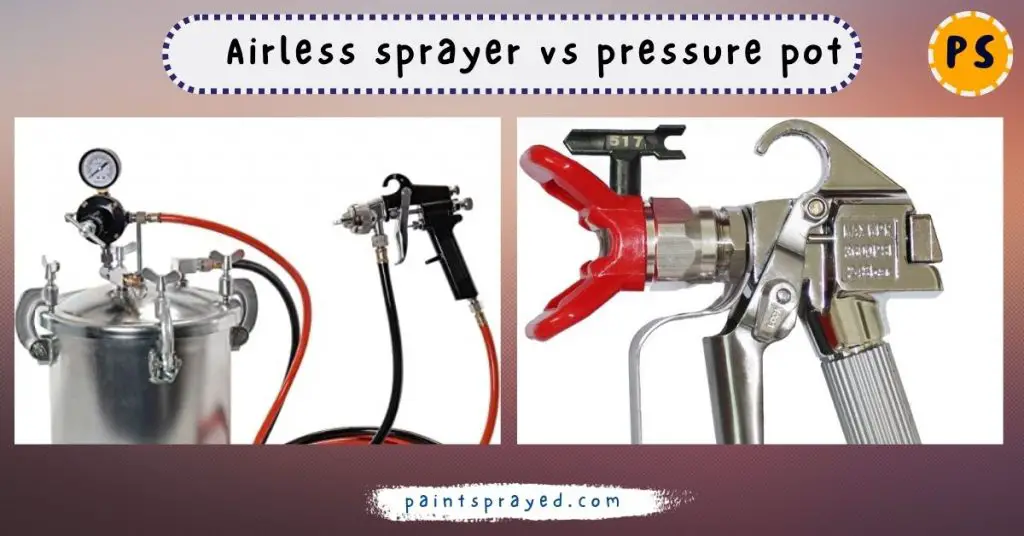 Some problems you should expect when you use an airless paint sprayer include the following:
Pros of Pressure pots
There are lots of benefits to using pressure pots. Pressure pots are portable and can be carried from one place to another.
Pressure pots are often superior to airless paint sprayers to paint. Airless paint sprayers use a pump to send paint up to a spray head.
They are perfect for small jobs and are valid for painting decks, fences, etc. Pressure pots are the best for painting walls and other large areas. They offer the ability to apply an even coat of paint.
Airless paint sprayers require a lot of thin coats when painting walls, and it usually takes a long time to finish a job. You need a pressure paint gun with a tip an inch or so in diameter to do walls.
Pressure pots are great because you can apply paint to the walls, let the paint dry for about an hour, and put a second coat on. They are also great for places where there is no electricity.
Many have a hand crank, so you can pump them up by hand. Airless paint sprayers charge the paint, then spray the color out of the machine.
Pressure pots are more versatile and may be used on the job site and then stored away when not in use.
Cons of pressure pots
Pressure pots are slow, tedious, and not as effective as an airless paint sprayer. Airless sprayers are very effective in paint application, and you can be sure of the quick, efficient, and effective job with these sprayers.
Airless sprayers are way better than conventional paint brushes. The only disadvantage of airless sprayers is that they are expensive.
Ideal application for pressure pot:
Ideal applications for a pressure pot with a spray gun are to paint the fence, automobile, window frames, under coating, shower cabins, and for waterproofing.
FAQ's
Final thoughts on airless paint sprayer vs pressure pot
Airless paint sprayer is a more efficient way of applying paint on a surface. Using an airless paint sprayer, one can achieve a professional finish in less time.
Pressure pots on the other hand is a mechanical device that is used to apply paint to surfaces. The basic difference between the two is that airless sprayer uses air pressure to push the paint while the other uses a pump to apply paint.
Do let me know in the comments section if you have any question in your mind which is making you stop using any of these two. Till next informative post take care of yourself and stick to the blog.